LEG 4 • South Georgia Island back to Newport, RI (40 Days – 7100 Miles)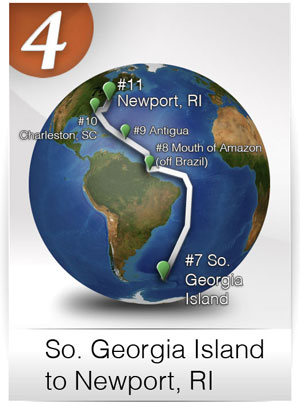 #8) Commence onward to the MOUTH OF THE AMAZON RIVER  (off the coast of BRAZIL)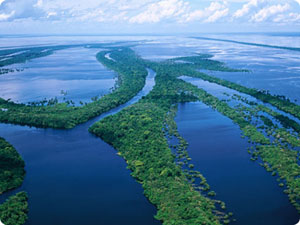 Coordinates: 0°35'13.68″N, 49°35'46.95″W – Google Maps
Length of sail: Approximately: 14 Days
Expected duration of sail: 2700 miles
Goal: Explore the mouth of the largest river in the World and its effect on the ocean and species of animals that adapt to the mix of salt and fresh waters. The Amazon River carries more water than any other river in the world, and is responsible for about one-fifth (twenty percent) of the fresh water that flows into the world's oceans. There are over 2,100 species of fish currently recognized in the Amazon Basin, with more being discovered every year.
#9) Commence onward to ANTIGUA, WEST INDIES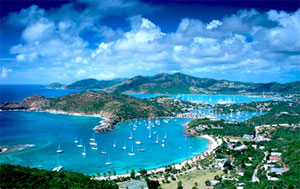 Coordinates: 17° 0'36.41″N, 61°47'1.13″W – Google Maps
Download .kmz file & click to open in Google Earth (get plug-in)
Length of sail: 5000 miles
Expected duration of sail: Approximately 30 Days
Goal: One of the great Caribbean Islands on the way back to the East Coast of the United States. Larger marine life such as turtles, stingrays, barracuda, jacks, permit, nurse sharks and morays are regularly seen in the waters around Antigua.
#10) Commence onward to CHARLESTON, SOUTH CAROLINA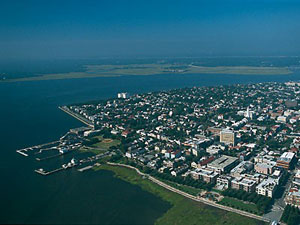 Coordinates: 32°47'22.83″N, 79°54'48.56″W – Google Maps
Length of sail: 1400 miles
Expected duration of sail: Approximately 6 Days
Goal: A quick stop in Charleston, which has become a second home for Bodacious Dream as she has competed the past two years in the Atlantic Cup Race that starts in Charleston. We'll be on the lookout for Lionfish, Amberjack, Sea Turtles, Barracuda, Sharks and Sunfish.
#11) Commence onward to completion of circumnavigation in NEWPORT, RI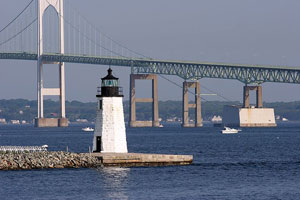 Coordinates: 41°28'37.58″N, 71°20'2.32″W – Google Maps
Length of sail: 700 miles
Expected duration of sail: Approximately 4 Days