Tim Eades (Captain of Bodacious IV)
A native of Georgia, Tim learned to sail at a the age of 15 through the Sea Explorers, a division of the Boy Scouts. The skipper of Tim's Sea Explorer Ship 288 used to race against the famous Ted Turner, winner of the America's Cup. The Sea Explorers would sail all year round, and once a year take a major trip out of Miami and with 20 Explorers and two Leaders, they would sail across to the Bahamas and explore the area for two weeks. Tim earned the Rank of Quarter Master, the equivalent of an Eagle Scout and remained with the ship later as an adult leader. In his college years, Tim learned to scuba dive and advanced to the level of assistant instructor ranking.  Tim is married with an adult son and daughter. The family located to Chicago in 1987.  He reentered the racing fleet in Chicago in 1999 racing with a T-10 named Atra, competing around Lake Michigan and in the famous 333 mile Chicago to Mackinac Race, Tim joined the Bodacious Racing team in 2011 taking command of Bodacious IV. Tim is also a licensed United States Coast Guard Captain with a 50 ton license with a towing and sailing endorsement. The 52 foot Bodacious IV is a 19 ton vessel.
Jonathon Pond (IT specialist)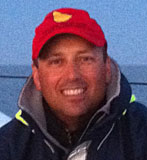 Jonathon grew up in a sailing family in Northern Indiana where he sailed and raced with his family on Lake Michigan in a boat named Brass Tacks. Having sailed many different boats in many areas including a number of years sailing and racing out of Miami, Jonathon's experience led him to compete in a number of double-handed events on the Great Lakes.  As an Internet Technologist, Jonathon's professional career brings his wealth of electronic knowledge to the sophisticated electronics onboard Bodacious IV. Jonathon is as accomplished in sailing as he is with computers, and we often say that the only person that knows more about computers is Bill Gates.  He designed and installed the electronic systems onboard Bodacious IV.
Dave Hardy (Engineer)
Dave is a Mechanical Engineer and manages and operates his own consulting firm specializing in manufacturing and, most recently, in solar energy systems. Dave has been sailing since he was 5 and started racing sailboats in Chicago 20 years ago. Dave has done most of the jobs on a boat ranging from bow to trimmer to tactics and driving. His most recent stint has been with the Beneteau 40.7 fleet where he was a part of three National Championship teams as crew and tactician and one as Skipper of Turning Point. Now the owner of Turning Point, Dave will be competing with his crew throughout the Great Lakes.
Heather (Sea Wizard)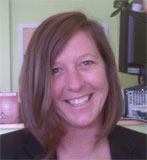 Few people love to sail more than Heather. Her sailing career on the Great Lakes has ranged from boats such as Thistles, J Boats, Soverels and Nelson Mereks to Farrs and Beneteaus. She was responsible for the preparation and management of a Najad during the racing season in 2010. Heather's professional career in administration at a medical laboratory keeps her busy during the off-season along, with her hobbies in skiing and boarding.
Dave Rearick (Expedition Host)

(See Dave's Bio Here!)