To make it easier to access the contents of this site, we have created these recap pages which help you to get an overview of each leg of the journey.
So far we have three recaps completed, with the fourth to go live upon completion of the journey.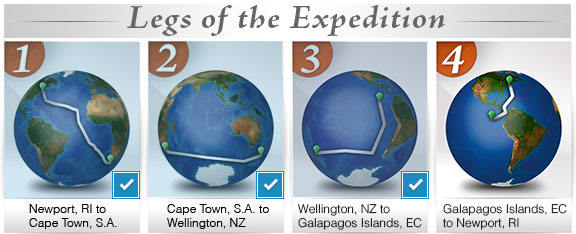 :: Pre-Circumnavigation Gamplan - Prior to October 2013 – Newport, RI
:: Leg 1 – 10/02/13 – 12/03/13 – Newport, RI to Cape Town, S.A.
:: Leg 2 – 12/21/13 – 2/08/14  - Cape Town to  Wellington, New Zealand
:: Leg 3 – 3/26/14 – 5/1/14 - Wellington, NZ to the Galapagos Islands  
:: Leg 4 – 5/07/14 – 6/14/14 – The Galapagos Islands to Newport, RI