The South Island of New Zealand generously provided a number of amazing experiences over the week I toured it recently, but the one experience that stood out for me was a visit to the Fox Glacier, located near the coast in the Westland Tai Poutini Park near the small town of Fox Glacier.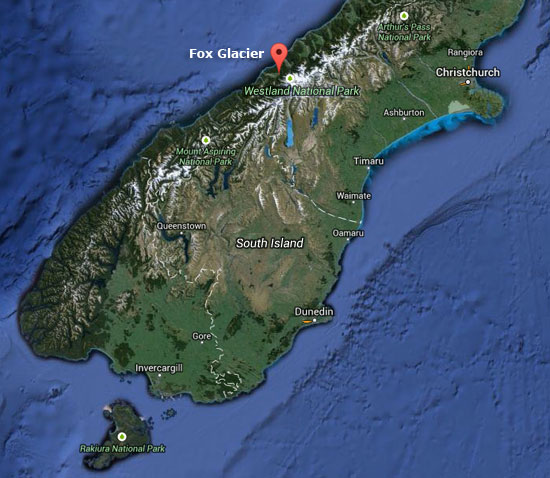 Fox Glacier in New Zealand's Westland National Park
We've all heard news reports that drum into us how the glaciers of the world are melting away, and what significance this might have. Getting the chance to see a glacier firsthand and up close made clear the pressing reality behind those reports. As you may know, I am a student of the world at large and especially of the natural wonders of the ocean, but nothing in my many wanderings prepared me for the transcendent beauty and force of a glacier.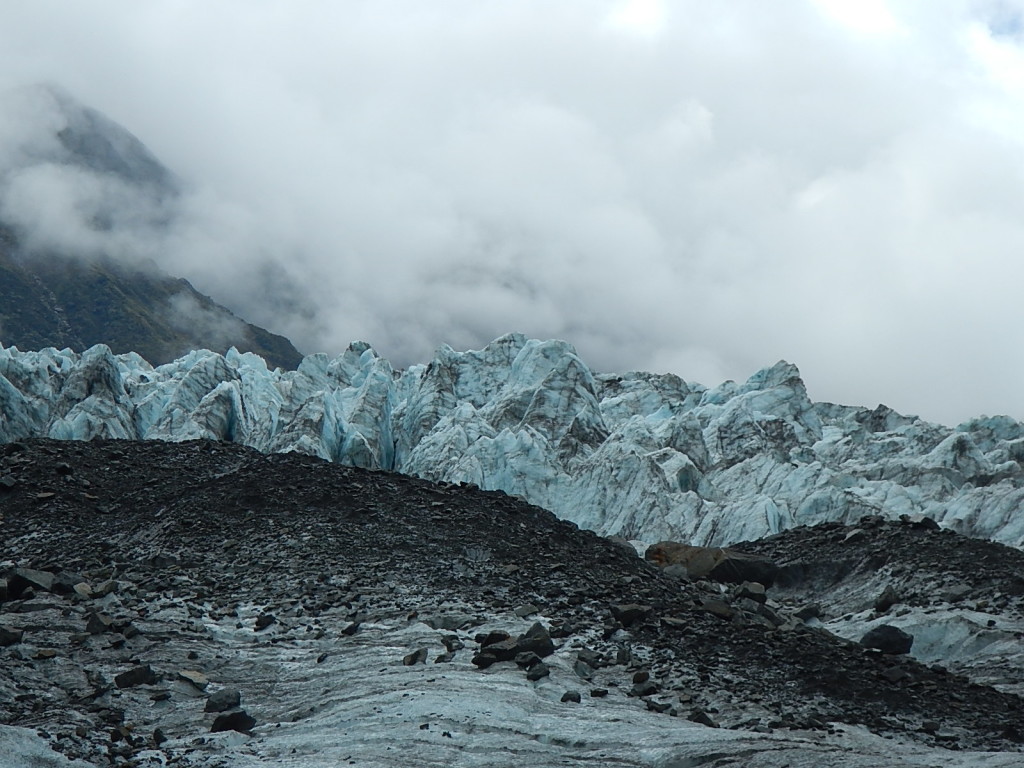 A sample of the visions to be found. See slideshows below for much more.

The Fox Glacier moves down from a bowl area that sits higher up in the mountains where the snows collect and remain year-round. These snows pile up and compress under the weight of many years of previous snows, which turn into this massive river of ice that works its way down through the rocky passes and towards the ocean. In the case of the Fox Glacier, its terminal face, curiously enough, ends in a rainforest on the coast of the South Island.

A group of us guided by Fox Glacier Guiding rode a bus to the parking area to begin our hike. As we began our hike to the glacier, our guide Jess explained that the barren rock on the walls of the river canyon gave clear indications of where the glacier was as recently as 2008. Just five years ago, the ice was significantly higher up the walls of the canyon – (over 125 feet) and it reached a good deal further down towards the ocean. Maybe "significant" isn't a powerful enough word … perhaps the photos can tell a better tale.

#1 – 

Click arrows to advance! Scroll over to read descriptions.

We hiked up to the terminal face and then up into the glacier itself, where for the rest of the afternoon, Jess took us past enormous holes where melting water runoff was eating away at the glacier. We hiked past caves and crevasses, up into ice canyons and through ice tunnels, all of such pristine beauty and stillness that it was hard to keep in mind the stark reality that this glacier was melting away at an alarming rate.

 #2 – Click arrows to advance! Scroll over to read descriptions.

As we came down from our last ascent, we looked across about 30% of the glacier that was too dangerous to traverse. Jess explained to us that this area was being eaten away by the river, and the unseen melt below was causing a collapse inward. From where we stood, we could see the unstable cave from which icy water rushed out. Jess further explained that by the end of this season, the entire area might well wash away and that within a couple of years, the entire terminal face of the glacier might be too unstable to access by foot.

 #3 – Click arrows to advance! Scroll over to read descriptions.

These monumental forces of nature, not unlike the ocean, do indeed work away at a glacial pace – one drop of water at a time, one blade of grass at a time, one gust of wind at a time, one wave at a time, and as they do, they slowly alter the face of the planet.

I feel humble and fortunate to have had the chance to experience these things firsthand and to share them with you. Rather than continue at this point with more words, how about we leave you with pictures of this amazing place.

Very soon too, we will have ready for you a new Explorer Guide on the Fox Glacier, so that you might read and learn more about this world landmark.

(video and scrap book)

Thanks,

– Dave