Fox Glacier – The Power of Ice
As some of you may recall, back in February on my layover in New Zealand, I visited Fox Glacier. After so many years of being surrounded by water in its liquid form, the experience of being enveloped by frozen waves of water cracked open my curiosity in completely unexpected ways.
Seeing the power that glaciers had to literally move mountains and at the same time to witness firsthand the incredible speed with which they are disappearing before our eyes was something I knew I had to further explore … both for myself, and for those of you who have engaged with us in the learning and discovery side of our adventure.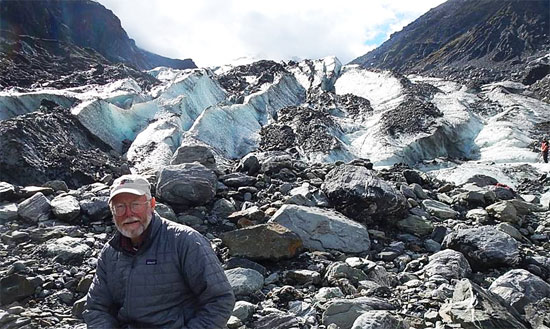 Dave at Fox Glacier
Though I know that what follows here (broken into two installments) is an unusually large amount of information for the narrow confines of a blog post or an email, here's what we'd like to share with you today!
We published a blog/email update on the Fox Glacier Excursion at the time … that is still accessible at the link above or right HERE!
In addition to our six earlier Explorer Guides, with

Tegan Mortimer

's help, we've gathered our essential learnings on glaciers and complied them into a newly designed and easily printable Explorer Guide on Glaciers! We encourage you to check it out – and to once again … share it with the younger people in your lives.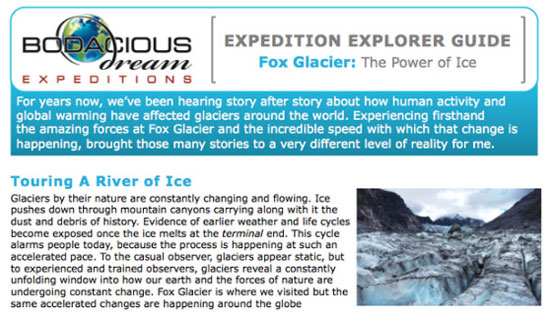 See our new Explorer Guide on "Glaciers – The Power of Ice"
Given the distance of some time to reflect, I have included below new reflections of my own on the whole Fox Glacier experience.
We've also added here five videos from that day – each one fairly short, but each also showing some unique aspect of the glacier.
The glacier photos in slideshow format (from the earlier post) have been included here as well. The same photos were earlier posted as a BDX Facebook Album. ALL the Fox Glacier media has been gathered separately as well right HERE!
:: Now, as this is a longer post as is, and as Tegan Mortimer has such a passion for the subject of glaciers, and has gathered so much great science findings to add on the subject, I'm going to wait until tomorrow to send along her accompanying report – "Tegan's Science Notes #8: Glaciers" which contains some very exciting, insightful and truly excellent science on glaciers. She also includes a fun Google Earth Scavenger Hunt (link) you can take on your own!
Weighing both posts, we know it's a lot … but there's nothing small about glaciers … and as we are quickly learning, the fate of our planet is as much tied to the vitality of our glaciers as it is to that of our oceans.
So, ALL that said … let's get rolling … !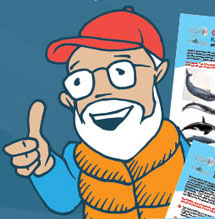 Dave Rearick: Growing up on the shores of Lake Michigan, the second largest of the five Great Lakes, gave us every chance to learn about glaciers. Glaciers scoured out all five of the Great Lakes about 10,000 years ago. As they melted and retreated, they left distinctive land formations: great carved moraines, bogs, kettle lakes and wetlands, not to mention, the amazing fresh water lakes themselves.

Lake Michigan is over 300 miles long (483 km), 90 miles wide (145 km) and over 900 feet deep (275 meters) at the deepest point. What I learned in school about glaciers at the time just sounded like more ancient history and did little to prepare me for my recent visit to the Fox Glacier on the South Island of New Zealand.

For the past several years, we've all heard story after story about how human activity and global warming have affected glaciers around the world. Experiencing firsthand their amazing scale and force, as well as the incredible speed with which their dissolution is happening, brought those many stories to a very different level of reality for me. It also reinforced for me the amazing power and need for hands-on learning in and around nature, much like what we are trying to do through our Bodacious Dream Expedition updates that track my circumnavigation and by our now seven topic-specific Explorer Guides.

#1 – Click arrows to advance! Scroll over to read descriptions.

As you hike up the glacier, you can easily see the various markings that the receding glacier had left. Just five years earlier, in 2008, the glacier had scoured the hillsides to a height that was now clearly marked by a vegetation line, below which was barren rock, maybe over two hundred feet above us!

The access paths to the glacier must be regularly reworked. Just a year earlier, the path was about 50 feet higher up the side of the canyon wall. We learned that the glacier was melting at the rate of 6 inches (15 cm) a day! That's 3.5 feet a week, 15 feet a month, 180 feet a year! Glaciers don't do anything quickly, but they sure do it steadily. They gather snowfall up in the mountains, compress it so that it must move with gravity, ever so slowly changing and sculpting the earth on its way. Natural history unfolds, and the story of the Earth is told by these slow moving rivers of ice. What looks to the casual eye to be a static natural wonder, is in fact a dynamic display of the forces of nature undergoing constant and rapid change.

 #2 – Click arrows to advance! Scroll over to read descriptions.

Each step of the hike exposed us to more wonder and amazement. There is so much beauty in the color and shape of the ice, and in tracking the constant changes brought on by the ever-flowing ice and water.

Be sure to check out our Explorer Guide on Glaciers for more amazing learnings!

I hope you enjoy the videos taken while at the glacier. I know they aren't of a professional travel brochure quality, but I think they offer a true and authentic entry into the story and into what you yourself might experience on the glacier if you were to go there. The rains and fogs of the day certainly added their effects as well, but to me, they all combine to show the stark beauty and harsh contrasts of this hard yet fluid environment – much like my videos of the stormy tempests at sea revealed the powerful nature of the ocean.

I hope that if one day you have the chance, you will choose to experience a glacier firsthand. If you do, I would recommend you hike rather than take the helicopter ride. I am sure the helicopter ride is beautiful, but you will land on a very static snow field up on the higher slopes of the glacier, and you might miss the story of these fascinating indicators of our environment, that are unfolding farther down towards the terminal face.

Of all the sights I witnessed that day, the one that stood out for me was that enormous boulder, about the size of a small truck, tilted up on its edge as if might at any moment fall over.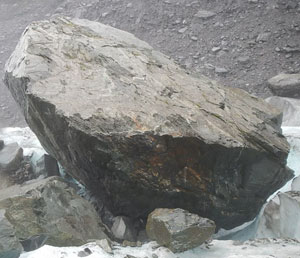 The Fox Glacier Guides have been keeping an eye on this boulder for five years, ever since it first appeared, after having been carried down by the glacier. In those five years, they have seen the boulder reposition itself in many different angles and positions, but no one has ever actually seen it move! That is the power of the earth and nature – the capability, one drop at a time (or one wave at a time) to move a boulder or wash away a shoreline.
If you've ever wondered just how your single life could have an impact on the larger world, I think somewhere in such a truth might be your answer.
#3 – Click arrows to advance! Scroll over to read descriptions.
As I mentioned up top here, tomorrow we'll follow up this post by publishing "Tegan's Science Notes #8: Glaciers" which contains some very exciting, insightful and truly excellent science on glaciers … as well as the fun Google Earth Scavenger Hunt  – so look for that tomorrow. ok?
Thanks so much for following along … and if you have any questions – or suggestions, don't hesitate to drop us a line at oceanexplorer@bodaciousdreamexpeditions.com
– Dave 
P.S. I just learned about this amazing set of photos from a photographer named James Balog who has spent years taking photos of vanishing glaciers … truly outstanding and sobering images  … http://billmoyers.com/content/vanishing-glaciers-now-and-then/