Hello from Terra Firma, Rhode Island! It's a week now since I arrived back here in Jamestown, RI. What an incredible day that was!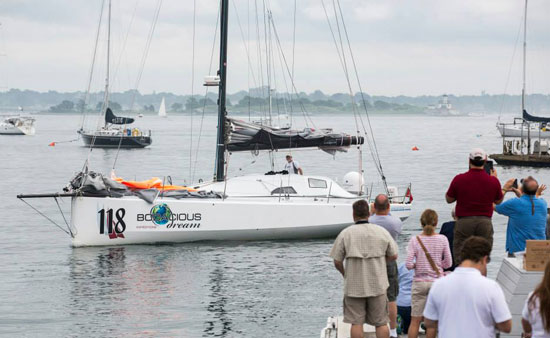 I pulled in just after noon to a great welcome from many friends and family, including my wonderful 83-year-old mother who made the trip all the way from San Diego, CA!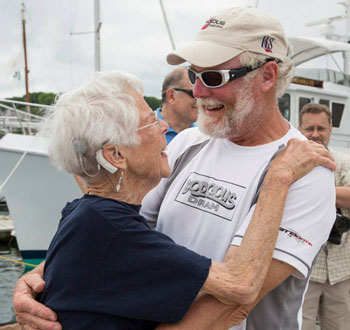 We celebrated the completion of the circumnavigation right on the dock and then after a toast (or two) and more hugs than I can count, we wandered up the road for a bite to eat at the Ganny, more officially known as the Narragansett Café.
It was a great time… so many happy faces… but now even a week later, I find myself waking up and not sure of where I am.
The next day, Sunday was a perfect New England coast day, and with some friends and family we sailed Bodacious Dream up the Bay to the Hinckley Boatyard. The sail was a perfect reach in 10 knots of breeze. Bodacious Dream sailed as smooth as can be, and my Mom even got a chance to steer her and enjoy the wind and sun.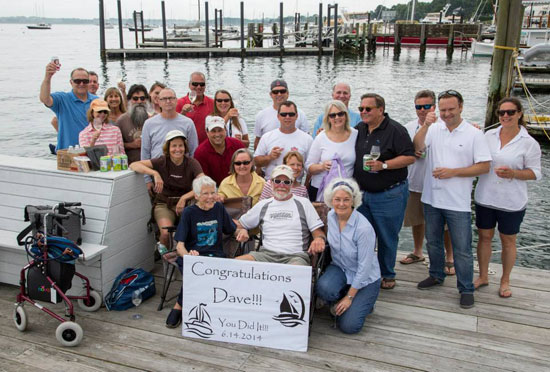 Monday morning came early, and it was time to start the maintenance on the boat. I began to take her apart and by noon, we had the rig down, the keel off and had her sitting up in her cradle. She will be on the hard for the month of July for some much needed rest and rejuvenation! When lunchtime came around and my good friends at Hinckley, who had helped me to prep Bo last fall, honored me with a boatyard cookout! Thanks guys!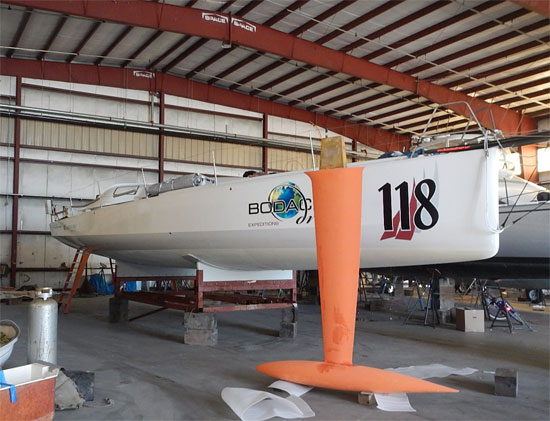 With Bodacious Dream securely at rest, I'm going to run home to the Midwest for a few days to mow the lawn and catch up with all those things that go to seed when you're gone for so long. But, I'll be back next week to hit the worklist on Bodacious Dream and to get her ready for returning to the water at the end of July.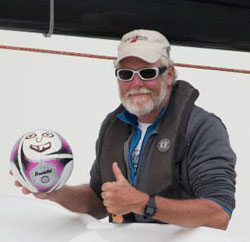 We've got four Leg 4 photo albums up that you can view… (1) The Galapagos to Panama, 2) Crossing the Panama Canal, 3) Panama to West Palm Beach and 4) The Arrival.
Also our friends over at The Jamestown Press ran a great story you can view HERE!
In addition to all, we've begun putting up pretty comprehensive "RECAPS" on each one of the four legs of the trip. Start with Leg 1 right HERE if you like. And I will keep going through the folders of photos and videos I captured to find the more exciting stuff to post.
In the meantime, if you want to follow some really good racing, this is great week to do it.
First up, you can catch up with my cohorts of the Bodacious Racing family as they compete in the Newport to Bermuda Race aboard Bodacious IV. You can also follow other Class 40 racing boats you may be familiar with from the Atlantic Cup who are also in the race. You can track the race by following this link right HERE! (Note: Bodacious IV is in "Class 8" and our friends in the Class 40's are sailing double handed in "Class 14.")
And if you're a Great Lakes kind of sailor, you're in luck there too, because you can track the Solo Mackinac Race that started yesterday morning. My old boat Geronimo is competing again this year. The link for that is right HERE!
OK, I'll leave it at that, gotta do some packing … but I'll be back with more soon.
And one more time, thanks again for all your incredible support!
– Dave, Bodacious Dream and (lost to the World Cup) Franklin