We arrived in Turtle Bay (Bahia de Tortugas) at about 10:30 am today, Tuesday – a neat spot on the trip north. It's a bit more than halfway north from Cabo San Lucas and a nice respite for us … as the winds so far have been strongly against us.
This small village has just a few conveniences. Most important to us is the ability to refuel, so we can continue motoring north as the winds are still forecasted to be against us … or at best, light and variable.
Within minutes of arriving at the anchorage this morning, we were approached by the local service that brings fuel out to you on the boat. Señor Enrique came first with his small launch to see what services he could provide and then, after leading us to a good anchoring spot, returned after a few minutes with a boat that is part fuel tanker. We took on nearly 85 gallons, which will be enough for us to make it to San Diego over the next three days.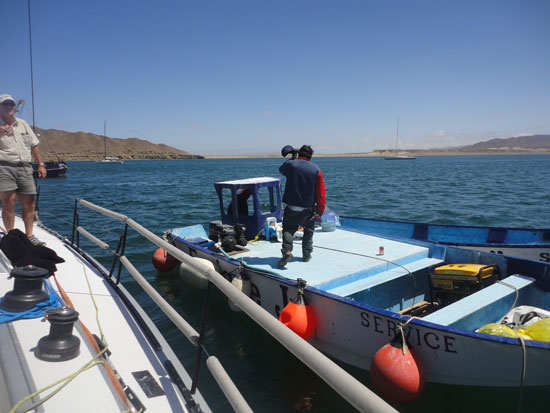 Señor Enrique's Welcoming Launch
While we had hoped to perhaps see some turtles here in Turtle Bay, we haven't had such luck. We're forever hopeful though to see more of the fascinating wildlife that abounds in these waters.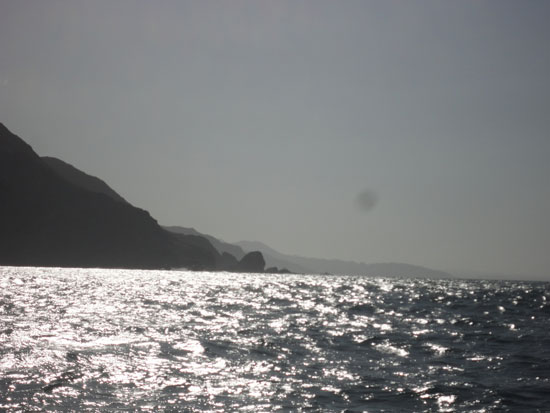 Approaching Turtle Bay …
The time at anchor here has been good, as we've gotten a chance to make a few repairs and fine-tune a few things that hadn't worked out the way we wanted. Bodacious IV looks to be ready for another challenging night of winds, before forecasts say they will settle down Wednesday.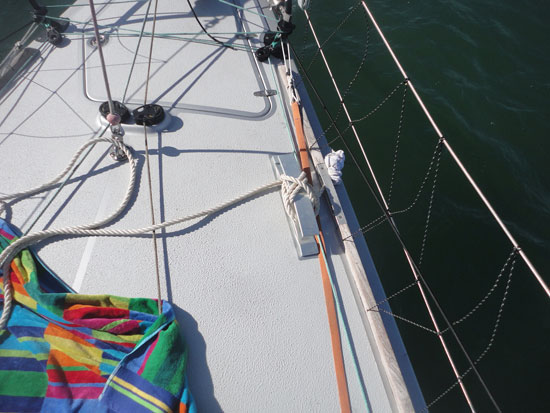 Anchored in Turtle Bay … a moment of stillness
After dark tonight we'll head out around the point and Isla Natividad, and then make a course to the East of Cedros Island before crossing the Bay and continue up the coast. Off the north end of Cedros Island we will encounter competing currents that will cause the wave pattern to be very confused. With the level of particularly strong winds we've been seeing the past three days, we will probably have a few hours of uncomfortable sailing tomorrow … before things settle down.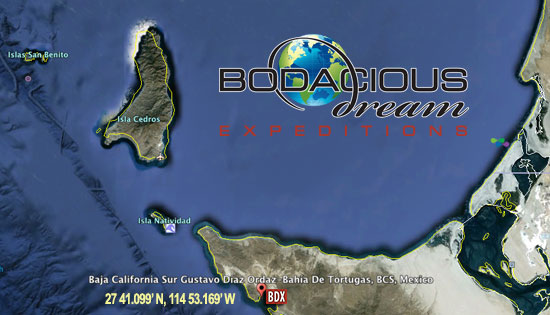 Position in Turtle Bay: 27 41.099' N, 114 53.169' W
We'll keep you posted on our progress, and hope to share more videos and photos with you tomorrow.
For now, at anchor in Turtle Bay – comfy with a dinner of chicken breast and ravioli. Desert? Think I'll try the cookies!
In the meantime … below is a video of an interview with Bo IV's engineer, Dave Hardy, shot back in Cabo San Lucas, about the science of ship masts … what keeps them up, what kind of loads they can bear … and what kind of mathematics you need to know to figure that all out.
Dave R. & Dave H. talk Masts and Mathematics …
Also … in case you hadn't seen these yet, we want to remind you about the six "Explorer Guides" that are a part of this site and which you might use to help you engage with the kids in your world around various subjects (Math, History, Wild Life, Sailing Glossary, Environment and Geography) all of which intersect in some way with what is going on and around Bodacious IV and our Baja Expedition. Here's a link that suggests ways that you might "Get Involved" and use them … and here's a link to the Math guide page.

Thanks for keeping watch on us!
– Dave R., Tim, Heather, Jonathon and Dave H.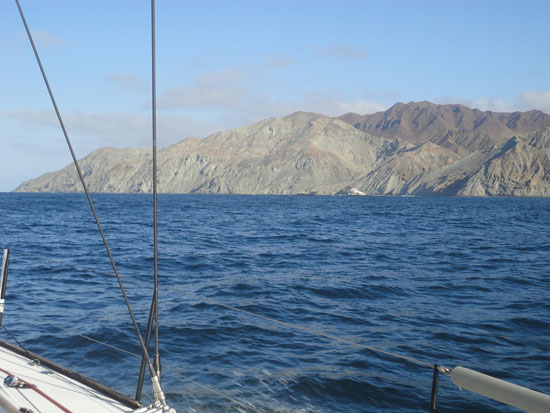 The forever beautiful Baja coastline …