The few days since I arrived in Panama on Wednesday have been pretty non-stop. First, I had to go through the procedures and inspections that are required before you can get clearance to transit the canal. Then I spent all day yesterday and today getting the boat ready, buying provisions and making on-the-fly adjustments to the plan as they came up.
:: We will start our transit of the canal today SATURDAY morning at 6:00 AM CDT!
We'll have to leave the harbor and motor out to Buoy #6, where we'll pick up our pilot and then continue northward into the canal and the first set of locks at Miraflores. If all goes according to schedule, we'll be passing through that lock about 8:30 AM – so if you are up and so inclined, there will be live cameras along the way and you can hopefully spot us as we go through the locks and make our way through the 40-mile passage to the Atlantic Ocean.
:: Here is the Link for the LIVE WEBCAMS… pancanal.com/eng/photo/camera-java.html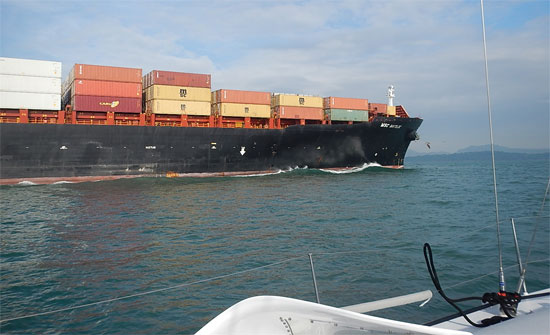 Up close and personal  with some of the big boys around here!
I'm lucky to have a great crew of four guys joining me for the passage – old friends who came down just for the passage – Pierce Johnson, Rob Plotke, Joe Yoffa and Bruce Dickinson. So far, we've had a great time getting Bodacious Dream ready to make the transit and learning about all the things we'll need to do to make the transit properly.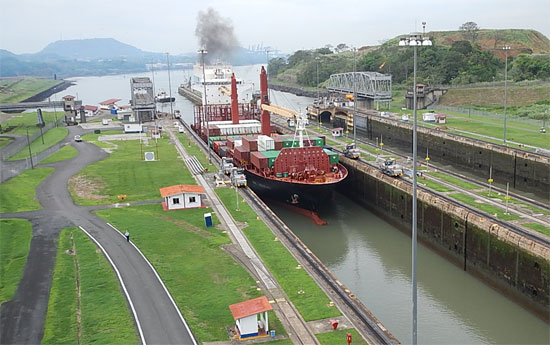 From the viewing deck at the Miraflores Locks
One of the things we've done is to visit the Visitor's Center at the Miraflores Locks and watch a few of the big ships go through the canal. Today, we watched one ship enter and pass through at which point we opted to head to the nearby restaurant for some lunch. During the middle of lunch, we saw an amazing sight – a submarine coming into the locks for transit through the canal! That can't be something they see everyday!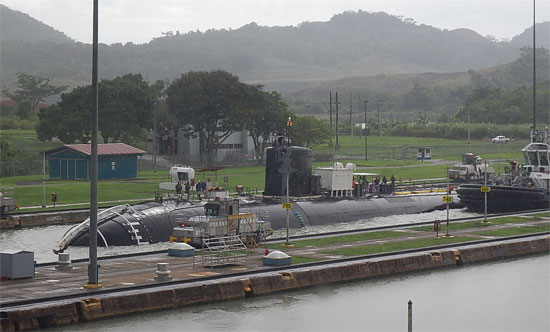 A submarine passing through at lunchtime today … 
It's pretty thrilling really being surrounded by all these gargantuan structures. What a monument to human industry and ingenuity – and uncanny when you realize it's 100 years old this year! Imagine what it must have taken to conceive, design and construct such a thing. If what I've experienced so far is any indication of the things to come, then there should be some great stories coming your way in a day or two.
It's after midnight now and I have to be up early to start what is sure to be a long day, so off to bed I go. I'll try to send a few photos and updates while we're underway. Hopefully, by this time tomorrow, Bodacious Dream will be back in the Atlantic Ocean! It's been about 6 months now since she left her home waters.
Stay tuned for more!
– Dave, Bodacious Dream, "Panama" Franklin & the great crew of Joe, Pierce, Rob and Bruce!