Join us for a New Zealand Glacier Scavenger Hunt!!
To begin … Open Google Earth < http://www.google.com/earth/>
Type -43.5124, 170.1051 in the search bar
You're now right on top of Fox Glacier!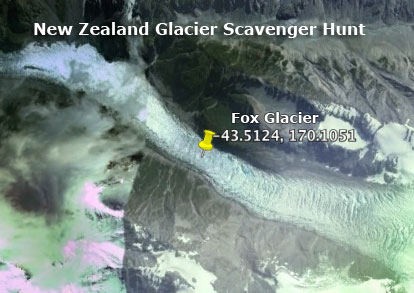 Zoom in and out to view the area at different levels of detail.
To make it easier to see the glacier, you might want to zoom out and tilt New Zealand on its side, like this: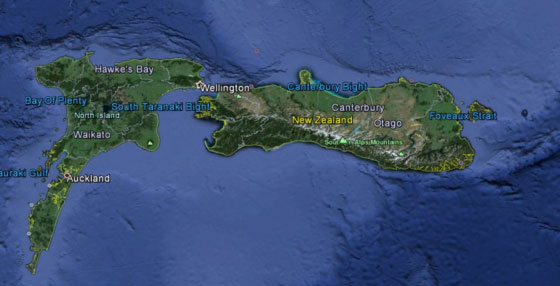 Then zoom in and out to see different features of the glacier.
As you zoom in, you should be able to "drop" into the valleys and see the Southern Alps and glaciers in 3D.
Question: The ice of the Fox glacier is not smooth, what do you think is causing all the ripples?
The bottom of the Fox Glacier is covered by a cloud but can you see the Fox River extending down the valley to the ocean?
Question: Why do you think there is a river here? Will there always be a river at the bottom of a glacier?
Now zoom out and see how many other glaciers you can find in the valleys around the Fox Glacier.
Many of these glaciers might look like they're not made of ice.
As the glacier melts, the rocks in the ice are exposed, which leaves many glaciers are completely covered in rock at their lower ends.
Question: So how can you tell there is ice there? Hint: Ice melts
Let's explore another of New Zealand's glaciers.
In Google Earth, type -43.5218, 170.2986 into the search bar.
Now you're on the upper part of the Tasman Glacier, New Zealand's longest glacier!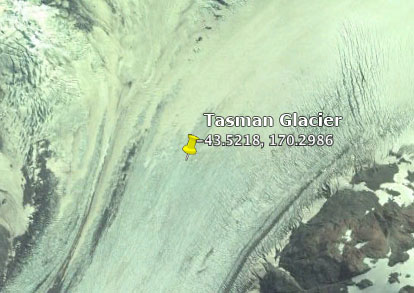 Follow the glacier down, where do you think it ends? Remember that the bottom of glaciers can be covered by rocks.
If you read the Explorer Guide <link to come>  you probably remember about moraines, the ridge of material at the end of a glacier which is left behind when it retreats.
Question: Can you find the moraine that the Tasman Glacier has left behind?
Question: What's it called when big blocks of ice fall off the end of a glacier?
Question: Can you see all the icebergs in Tasman Lake? Hopefully you noticed that Tasman Lake is a moraine dammed lake, that's the moraine I was talking about.
Question: The Tasman Glacier was once very large, if you zoom out, can you figure out how far it extended? Why do you think the ice went that far? Hint: Remember U-shaped valleys and moraine dammed lakes
Thanks for exploring the glaciers of New Zealand with Dave and I.
Explore some more and see if you can see any other glaciers or glacial landforms.
Thanks!
– Tegan
< GO BACK TO TEGAN'S SCIENCE NOTES #8: GLACIERS
< GO TO DAVE'S FOX GLACIER FULL STORY