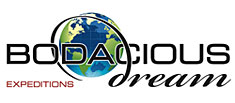 Bodacious Dream Expeditions are an ongoing series of voyages of discovery and learning that bring the wonders and excitement of traveling the world's oceans directly to you so that you might enjoy, learn and play along with us. Our boat, Bodacious Dream, skippered by Dave Rearick, is now fully rigged for satellite Internet … so we can send story, photo and video updates from wherever we are at sea, and respond to your questions and comments.
:: OUR BIG NEWS! What's happening right now is a long-dreamed of adventure of the sort that very few people have ever attempted; a single-handed sailing circumnavigation of the globe … that Dave and Bodacious Dream are set upon now. On October 2, 2013, Dave departed from Newport, Rhode Island, on a voyage of learning and discovery that is expected to cover 30,000 miles and take 9 months, before returning to Newport.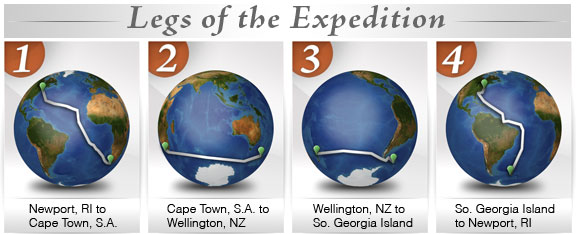 The route will be the one traveled by most global ocean racer, but as this won't be a race, Dave will have the luxury of time to explore more deeply the world of the open ocean. We hope you will join us for the tour. Here's Dave's intro to the circumnavigation and here's the itinerary!
:: HOW TO FOLLOW ALONG WITH THE CIRCUMNAVIGATION: 
Here is where you can always find our "LATEST BLOG UPDATES" … and also track the chronological stream of previous posts going right back to the very inception of our races and expeditions. These updates (and more) are also shared on our BDX Facebook page - so "LIKE" us there if you haven't already. You can check out the videos on our BDX YouTube Channel and on Twitter too … @bodaciousdream. And don't forget to sign up for our Bodacious Dream Newsletter!
As we do for all of our expeditions, we generate custom study materials, overviews and sets of smart and eye-friendly "Explorer Guides" to complement our travels and to help students and adults (working on their own or together) to engage and learn along with what Dave is doing and seeing out on the water. In this way, we hope to engage you in doing some "Citizen Science." We're working on the Guides for the Circumnavigation, and will post them when they are ready.
:: RECENT EXPEDITIONS: We have in the past several months completed three expeditions.
Our FIRST Bodacious Dream Expedition of the Baja Peninsula concluded on April 5th. There were many updates, as well as photos and videos along the way! (Get a one-page recap with links within it, HERE!) 
Our SECOND expedition ended on May 26th and was along the Atlantic Coast, and happened concurrently with the 2013 Atlantic Cup Race which saw Bodacious Dream hold onto its lead through two tough days of "inshore" racing to WIN the big prize! (Get Dave's one-page recap with links within it, HERE!)
Our THIRD expedition concluded on July 22nd, running concurrently with the 2013 Trans-Pac Race - 2225 miles of open-ocean sailing from Long Beach, California to the Honolulu, Hawaii, aboard our sister ship, Bodacious IV, which executed a daring southerly strategy and crossed the finish line first in their division, though their corrected finish considering handicaps was third. (Get Dave's one-page recap with links within it, HERE!)
And just so you know, we are always here at the other end of this internet "thing." Drop us a line from our "Contact Us" page – ask questions, make comments, say hi – we'll get back to you as soon as we can. And thank you as always for your interest and support.
So, come along and join the expeditionary force!
- Dave and the Whole Bodacious Dream Team