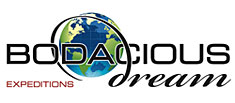 Bodacious Dream Expeditions are an ongoing series of voyages of discovery and learning that bring the wonders and excitement of traveling the world's oceans directly to you so that you might enjoy, learn and play along with us. Our boat, Bodacious Dream, skippered by Dave Rearick, is equipped for satellite Internet … so we can send story, photo and video updates from wherever we are at sea, and respond to your questions and comments.
:: THE GLOBAL CIRCUMNAVIGATION! What's happening right NOW is a long-dreamed of adventure of the sort that very few people have ever attempted; a single-handed sailing circumnavigation of the globe!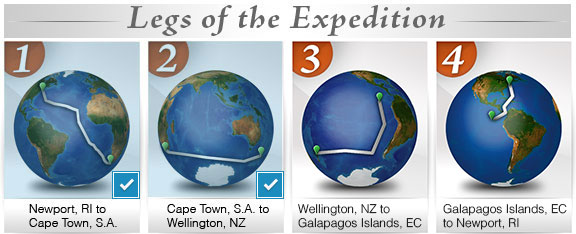 1) On December 3, 2013, Dave completed Leg 1, landing safely in Cape Town, South Africa, after completing the 8,000 miles voyage. While in Cape Town, Dave visited and filed updates on excursions to visit African Penguins and the Cape of Good Hope. While in Cape Town, Earthwatch published a news story on Dave and the Expedition.
2)  On December 21, 2013, Dave departed Cape Town on Leg 2 bound for Wellington, New Zealand. On February 8, 2014, after enduring weeks of stormy seas, Dave safely landed in Wellington, New Zealand – a journey of over 7,000 miles. While in Wellington (where Bodacious Dream was built in 2011) Dave undertook a special excursions to visit Fox Glacier. 
3) On March 26, 2014, Dave departed Wellington, NZ on Leg 3 which will take Dave east to a waypoint about 46°S Latitude and 147°W Longitude before turning Bodacious Dream north towards the Galapagos Islands.  Stay tuned for regular progress reports.
:: FOLLOW OUR ADVENTURE! To get the latest updates, check out our Expedition Blog, or tune into us on Facebook, Twitter, on our BDX YouTube Channel or SIGN UP for our Email Newsletter!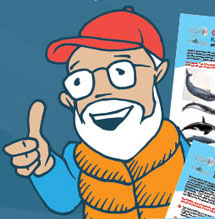 :: LEARNING AND DISCOVERY! Our goal here is to share Dave's experiences in as direct and useful a way as possible. We encourage you to jump way deeper into the wonders and beauty of the natural world Dave is traversing by investigating and sharing with the younger people in your world our Explorer "Study" Guides! Begin with this one on "Our Watery World" to get a feel for them.
And be sure to check out our "Citizen Science" page. Included there you will see listed our up-to-date series of "Science Notes" written for us by our Earthwatch ocean scientist, Tegan Mortimer who brilliantly picks up on what Dave encounters on the water and wraps it up for us in beautiful scientific perspectives. Let the learning begin!
:: WE'RE HERE! In the meantime, should you want to, drop us a line from our "Contact Us" page – ask questions, make comments, say hi – we'll get back to you as soon as we can. And thank you as always for your interest and support.
:: PREVIOUS EXPEDITIONS: Over the course of 2013, Dave completed three other Bodacious Dream Expeditions.
Our FIRST Bodacious Dream Expedition of the Baja Peninsula concluded on

April 5th.

There were many updates, as well as photos and videos along the way! (Get a one-page recap with links within it, HERE!) 
Our SECOND expedition ended on

May 26th

and was along the Atlantic Coast, and happened concurrently with the 2013 Atlantic Cup Race which saw Bodacious Dream hold onto its lead through two tough days of "inshore" racing to WIN the big prize! (Get Dave's one-page recap with links within it, HERE!)
Our THIRD expedition concluded on 

July 22nd

, and ran concurrently with the 2013 Trans-Pac Race - 2225 miles of open-ocean sailing from 

Long Beach, California

 to the 

Honolulu, Hawaii

aboard our sister ship, Bodacious IV, which executed a daring southerly strategy and crossed the finish line first in their division, though their corrected finish considering handicaps was third. (Get Dave's one-page recap with links within it, HERE!)
So, come along and join the expeditionary force!
- Dave and the Whole Bodacious Dream Team