We untied Bodacious IV, Saturday at Noon, PST time and motored out of the Cabo San Lucas Harbor past many people vacationing and swimming among the beautiful beaches.
After finishing up final sorting and storing of the gear, as well as a final safety meeting, we got off to a good, but late start. While all five of us are very experienced sailors, we've never all sailed with each other before, and it's necessary for safety purposes that we all have the same understanding of the procedures, so that should an emergency arise, we know not only where everything is, but also what each other is (or should be) thinking.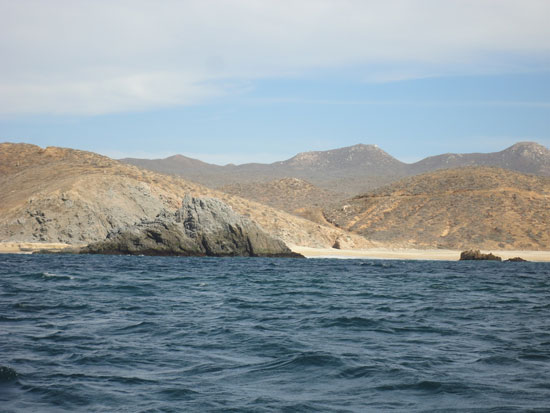 Just after we turned around the first corner and headed in the general direction of our destination San Diego, we were treated to a most wonderful site – a humpback whale surfaced and waved its tail at us as if to wish us off on a good trip! Unfortunately, we weren't quick enough with the camera to capture it, but we certainly are planning on seeing more whales along the way. It was difficult to tell the length and size of this humpback, but we know they are generally 39–52 ft (12–16 meters) long and weigh approximately 79,000 lbs (36,000 kilograms) They are famous for their songs. (Do you know how long they typically live? You can find the answer in our Wild Life Explorer Guide.)
We were also visited by a school of dancing porpoises and a large turtle, but again, it was difficult to get the cameras on them. We'll be quicker and  better prepared for the next round of visits!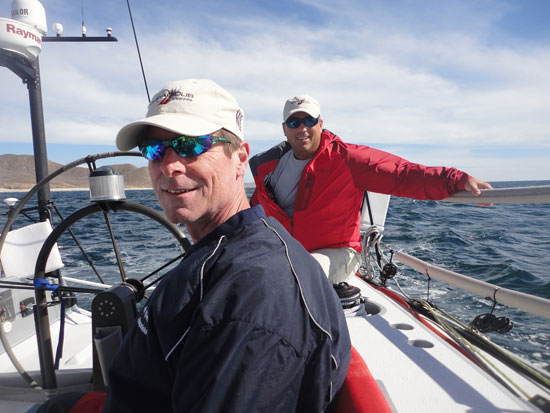 Meet a few of the crew: Dave Hardy (Engineer) & Jonathan Pond (IT Specialist)
It looks now like the wind is going to be against us for most of the trip. That is going to make it more difficult than we'd hoped to sail, and we'll most likely have to motor much of the way. There is a high pressure system moving north of us off San Diego, (the dark blue and green in the upper left corner of the wind map below) which is producing winds that circle high pressure in a clockwise direction. With the high pressure pushing from the left and in front of us, those winds will come down directly on our bow, and so act to push us away from our destination.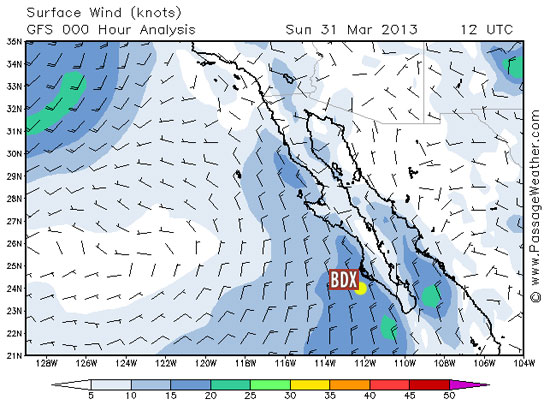 The moon rose behind us last night, as we were about 60 miles south of Magdelana Bay. We've been told by other sailors that know this route and these waters – to stay relatively close to the shore to stay out of the worst winds and waves. It does seem to make the trip smoother to be in about 60 feet of water.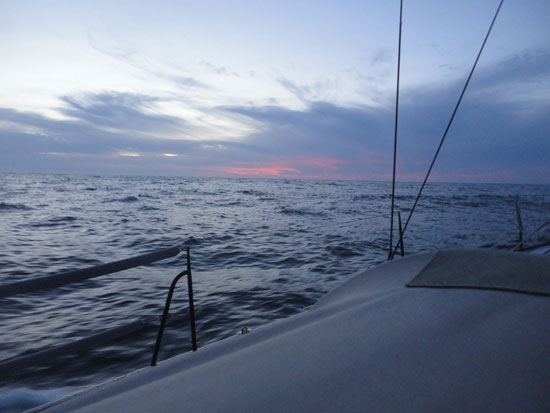 Sunset … Day One
So hopefully, the new day will allow us to get some video. In the meantime, If you care to, go ahead and ask us some questions. To do that, just go HERE and fill in the form.
And to all of you … have a lovely and peaceful holiday!
– Dave R., Tim Heather, Jonathon and Dave H.
Bodacious Dream Expedition Day #1 Position:
23 48.191′ N, 110 45.552′ W
Course 319 (Angle on the 360 Degree Compass (more on that soon)