We've had a full day on the water this Easter Sunday. The winds stayed pretty solid, mostly 15 to 20 knots and kept pushing directly into our nose, making it difficult to sail … so we continued to motor. About noon, we did hoist the mainsail to a "2nd reef" position – about half its full size. This is done to help stabilize the boat in the waves. When the winds blow stronger, we make the sails smaller so we can better control the boat.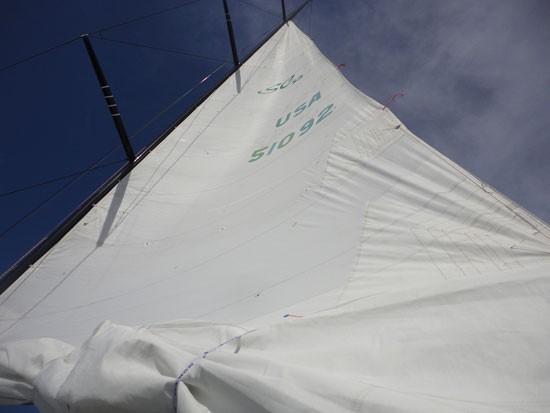 Mainsail in "2nd reef" position

Here Bo IV crewmember Heather explains what reef points are and why they matter when you're using the motor on the boat.
We've been out here since noon on Saturday, and it's now about 21:00 hours on Sunday, so that's about 33 hours total time. So far, we've gone about 225 miles and have about 180 miles left before we reach Turtle Bay, where we'll stop for more fuel before heading on to San Diego.
We've seen some fun wildlife today. First off, this morning we were visited by a colony of seals. There were quite a few of them and they kept us entertained by following along with us, playing in the wake of the boat and body surfing the waves alongside Bodacious IV. They look like they had nothing much else to do but play – which was entirely fine by all of us.

A seal colony comes to visit
Later in the day, we came upon a feeding frenzy. We could see a flock of pelicans diving into the water and making all sorts of commotion. I'm guessing there were 100 of them in the area. At the same time, we could see a lot of dolphins surfacing and jumping. What it looked like to us was that the dolphins had run into a school of smaller fish, and were forcing them to the surface as they fed on them, at which point those fish pushed to the surface became easy glistening targets for the pelicans.

A nearby bird and fish feeding frenzy
This is an example of what's called a "food chain" in nature, where bigger fish feed on smaller fish, and other animals then feed on various even smaller species. It was sure interesting to watch the whole event unfold, which Captain Tim Eades did from his special little nest.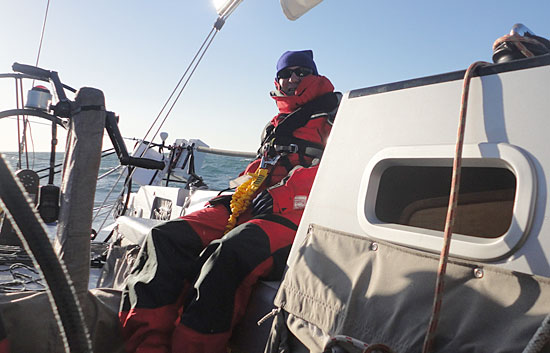 Captain Tim Eades
Given the wind and waves conditions, we've found the easiest course to stay along the
coast in about 60 feet of water. We're not entirely sure just why at this depth, the waves and wind are less, but the advice we were given by local sailors has been holding true.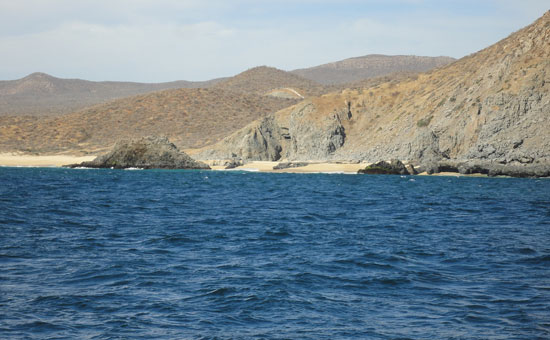 As we watch the coast go by, we can see how dry and arid the desert landscape is. Often it is barren or sandy with only brush and cactus – very brown and dry-looking. Also, at night, there are very few lights on the shore which tells us that there are very few inhabitants, and those that are there are mostly small, subsistence fishermen who live in small shacks while they fish the area.
We were told that along this coast that fresh water is a valuable thing, and that if we need something from these people that offering them fresh water in return is a common courtesy.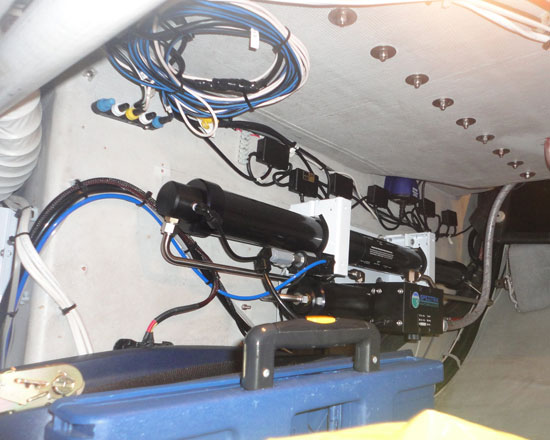 This is Bo IV's onboard watermaker.
Bo IV has a system on board that takes salt water and desalinates it in to fresh water. So, as long as we have engine power and can use this machine, we can create fresh water out of salty ocean water – which of course comes in real handy, if we are all to have our several precious cups of coffee.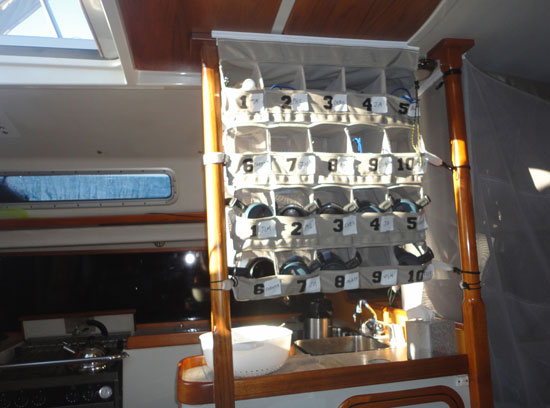 The rack in the galley, where we store our cups.
After the long day on the water, we each take our turn keeping watch through the night, as we continue on to Turtle Bay.
More from this fantastic world tomorrow.
– Dave R., Tim, Heather, Jonathon and Dave H.
Bodacious Dream Expedition Day #2 Position:
25 44.205' N, 112 08.983' W
Boat speed: 7.3 knots
Course: 345 degrees