Our time here in Rhode Island has passed quickly and our departure date for the Circumnavigation now looms just two weeks away! The excitement builds while quiet anxiety seeps in to fill the gaps. Questions keep circling through my mind … what am I forgetting, what's going to break, how's the weather going to be … will there be dragons out there? So while I'm hoping that those questions all resolve themselves peacefully, I know for sure that many unexpected things will arise, and well … that's the fun of it! Being self-sufficient while sailing across these enormous expanses of ocean, embedded in the deepest wild of nature; this is living as close to the fullness of life as I can imagine. Such thoughts help me to offset the labor of long days at the yard working on the boat!
This weekend produced a number of completed projects and items crossed off the list! Thanks to the help of stalwart friends Tim Eades and Matt Scharl, we have new clutches on the foredeck, and new splashguards to protect me in the cockpit.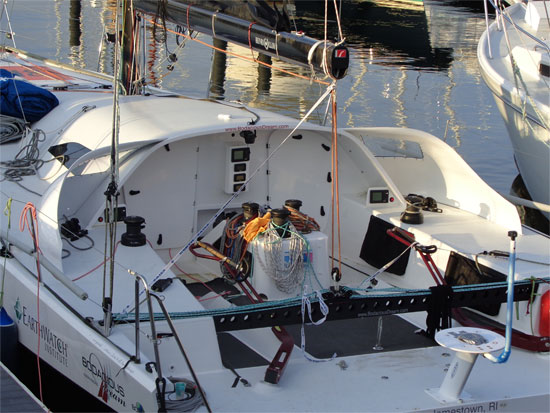 BoDream with her spiffy new splashguards!
Thanks also to Dave, Phil, PJ, Peter and all the guys at Hall Spars, the rig is in and we sail-tested it on Saturday to make sure the tuning is proper. It's sort of like tuning an instrument, as we tighten the shrouds (which are the wires that hold the mast up) to various tensions to keep the mast in column (straight) when the wind blows. Needless to say, we had a great day of sailing on Saturday to accomplish this with the help of Collin (Dave's Son) and Carolyn, Phil's wife. Carolyn is a teacher's coach and enrichment counselor and hopes to introduce our BDX educational program to first, second and third graders at her schools, as well as to perhaps help us put together more interesting learning ideas. We're always on the lookout too for others who can help with new ideas and ways to help us share this great expedition – not just with kids, but with everyone! If you have any thoughts, let us know … info@bodaciousdreamexpeditions.com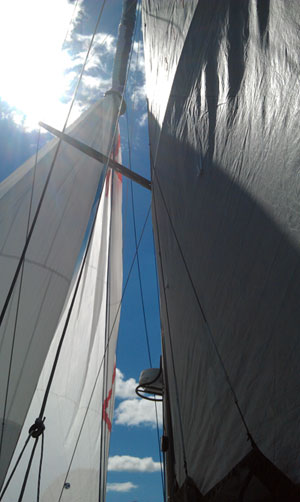 Eric Wakefield at the North Sails Loft took the time to look over and make any repairs to the sails that I'll use. On the water, chafe and small tears are often occurrences, and these are best and most properly repaired back on the sail loft floor. Imagine a large gym floor with the sails spread out … much easier to look at and work with them like that. We also got a chance to put up and sail with most of those sails this weekend, and now have them onboard and packed away. Sails are like the engine on the boat only they don't come with a throttle or gas pedal, so it's necessary to keep changing sail sizes and shapes to best accommodate the strength and direction of the wind. With the full range of variables in weather we may well encounter around the world, it will be necessary for us to be carrying 8 or 9 various sails with us.
In the meantime, our KVH satellite dome is off being repaired. The hydro-generator mount is nearing completion, auto-pilots are sorted out and we installed a back-up wind wand on top of the mast, that sends wind direction and speed info down to our computer. And to top it all off, Bodacious Dream even got a good washing before I took off for the day on Sunday. Plus I got a few vaccinations this past week too! Shots in the arm! Ouch!
So finally, it's time to start making the transition from boat projects to logistical work, which means finding, getting, sorting and storing all sorts of gear, charts, food, clothing, paper and pencils, pens and such. Ice cream too, though that will have to be of the freeze-dried variety. But cookies? For sure on that!
At just more than two weeks away from leaving, the well wishes and bon voyage messages come quite frequently. Thanks to all of you for checking in, and keeping me in your thoughts as I head off into this most amazing dream expedition. I promise pockets bursting at the seams with stories when I return, but until then, you can read them as they happen simply by signing up for the email list or by following us on Facebook. Start getting the kids revved up about following us too. We are working on our new Explorer Guides for the trip and already have quite a few other things that will help put a special discovery frame around the expedition.
It's all happening … almost all at the same time. Be back soon with more!
– Dave and Bodacious Dream