I know it's been quite a while since I've sent news of Bodacious Dream and the ongoing adventures. As many of you know, Matt Scharl who sailed with me in the double handed events Bodacious Dream raced had prepared Bo for sailing to Europe to compete in the Route du Rhumb race. Upon arriving in Europe, for personal reasons, Matt decided to withdraw from the Route du Rhumb and asked if I could come over and meet him in Ireland and help sail Bo to Hamble in England.
Matt met me at the airport in Finet, Ireland where we had lunch with the family who housed him for the time he was there. After lunch, we headed to the boat and sailed south off the southwest coast of Ireland past Fastnet light, the most famous lighthouse in the Irish Sea, on to Lands' End and then down to the island of Guernsey which is part of the Channel Islands.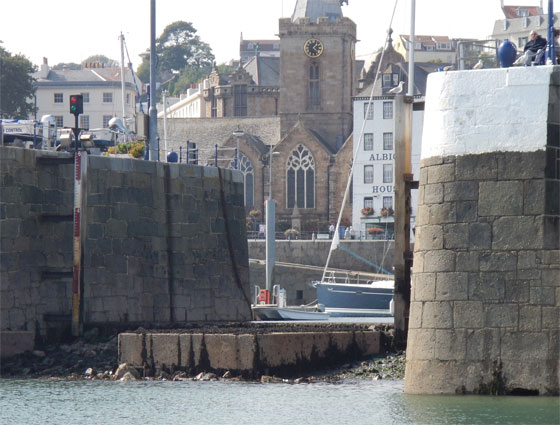 Arriving in Guernsey at low tide …      
Guernsey retains its own sovereignty but is loosely connected to the UK and is English speaking. From Guernsey, we sailed north through the Alderney Race, which is a very strong tidal stream current between the Channel Islands and the Cherbourg Peninsula of France. These were very historic waters and we could feel the past rising up all around us. At times we were moving with a 5 to 6 knot current… and fortunately, in the right direction!
Very early in the morning, we entered the Solent, which is a strait that separates the Isle of Wight from the mainland of England, where we worked our way through the fog past thousands of boats before tying up about dawn among some the boats of other Class 40 sailing friends.
As we wandered around the yard getting our bearings and looking for breakfast, we stopped and talked with the sailors from Concise 8, a new radically-designed Class 40. We looked over Swish which will be sailed in the RdR by a South African friend, Pippa Hutton-Squire. Not long after that, a car pulled over, rolled down its window and to our surprise, it was our friend Miranda from Campagne de France! Miranda will be sailing CdF in the RdR and her partner, Halvard will be sailing against her in his new version of CdF2. You may remember we sailed against them in the Atlantic Cup, the Quebec-St. Malo race AND the Normandy Channel Race in 2012.
By the end of the day, we'd settled into the Compass Point B&B. That evening, we wandered across the street… actually a cobblestone lane… to the King and Queen Pub for dinner. Within ten minutes of arriving, we'd made friends with the proprietor Janet and we found we had a dozen or so mutual friends. Turns out The King and Queen Pub in Hamble is one of the main land-based stopping points for many an adventuring sailor!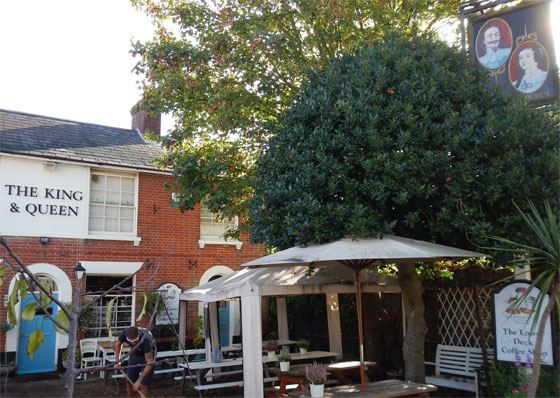 The King & Queen Pub in Hamble
In the past week, I've had the pleasure to meet many new sailors and reconnect with old friends. I've heard some great stories and shared some great local music, had a traditional English Roast dinner on Sunday as well as a peas with salmon dinner. This is a sweet little village where most the homes are centuries old, which means that things are just the way they are. Sometimes you step up and over a threshold to enter a building, other times you have to step down to enter. Sometimes the doors aren't quite high enough and sometimes the lights aren't bright enough… but it's merry, it's old and it's England. Quite a nice place to finish up a 4-day sail!
So, Bo is doing quite well. She is cleaned up and sitting patiently waiting for her next trip. In the meantime, with my work pretty much done and a day or so left before my flight, I'm going to make a side trip to Stonehenge. Stonehenge is that famous stone circle in England that has always captured my imagination. It's only an hour's drive away so it's something I don't want to miss. I will share that experience with you early next week.
Until then, thanks for staying tuned. More to come soon.
– Dave