The Galapagos Islands are almost in sight and though I'll be there in less than a day, I'm going to take my time, so that I arrive in the morning hours of Thursday and thus have the day to make my way safely into the anchorage and secure Bodacious Dream for my stay.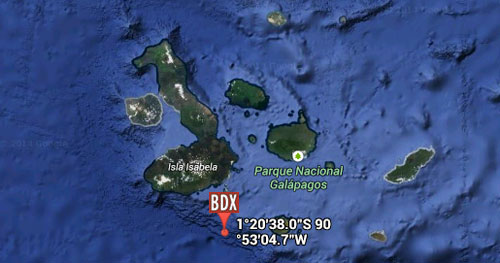 Pretty close to land … 1.34389S , 90.88464W
Once I tie off, as always, I'll have to take care of the customs and immigration paperwork and then … (hallelujah!) … head to the showers! Phew! Overall, it hasn't been too bad, but the last few days have been quite warm and a cleansing shower will make a lot of things better. So, give me a couple of days to sleep and sort things out in the Galapagos and I'll return with a game plan to share as to what interesting things I might get to explore.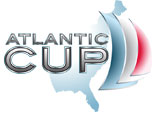 In the meantime … it's May 1st tomorrow, which means just 10 days until this year's running of The Atlantic Cup Race. Read on below for my preview on this year's race. If I wasn't here, you can be sure I would be there! So, read on and then follow the action.
May of 2012, Matt Scharl and I co-skippering Bodacious Dream were jib reaching up the Eastern seaboard of the US from New York City past Long Island towards Newport, Rhode Island in the second running of the Atlantic Cup Race. We had just spotted Block Island and Matt went down below to check in and see where we stood on the leader board. Moments later, he came up with an exuberant smile exclaiming we were in the lead by several miles. It was an exciting night as we worked our way into Narragansett Bay and ultimately to first across the finish line at Ft. Adams, winning the second leg of the event. We placed second overall in 2012 after the three event legs were totaled. 2013 proved even better for us as Bodacious Dream, after winning both offshore legs and placing second in the inshore regatta, placed first overall in what many have claimed to be one of the best Class 40 events in the world!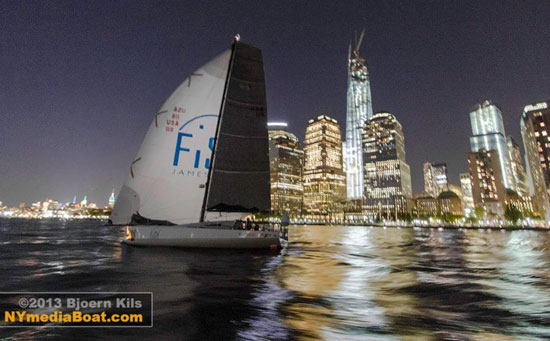 Bodacious Dream/ 2013 Atlantic Cup – first across the finish line in NYC! (See Video Here!)
Those were exciting times, not only for us, but for many of you as well who followed the event with the great coverage provided by the event's website @ www.AtlanticCup.org. The fun of all 7 boats arriving at the finish line in Newport Harbor within 45 minutes of each other, after 250 miles of ocean sailing … was hard to believe. I guess heart stopping awesome might say it best! Any one of those boats could have won that leg with just a wind shift of a few degrees.
As you know, I'm presently sailing Bodacious Dream back into the Northern Hemisphere and will miss the Atlantic Cup this year, but I know that Manuka Sports Event Management, energized by Julianna Barbieri and Hugh Piggin will once again be putting on a great event.
If I may, I'd like to take a few minutes to offer my own personal preview of the race and this year's entrants, but before I do that, let me tell you a bit more about the event.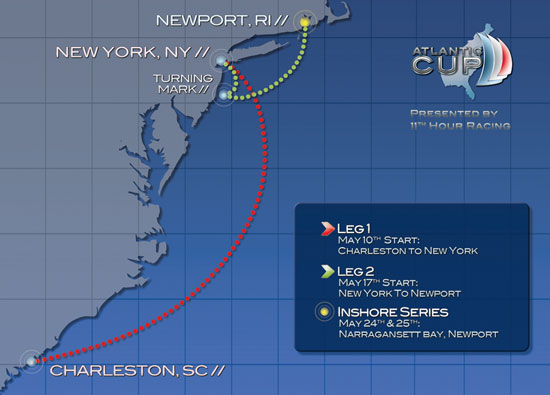 Three Legs of the Race – Two offshore and One inshore …
The Atlantic Cup, presented by 11th Hour Racing, is a multi-discipline event. As you can see in the map above, there are two offshore legs – the first from Charleston, SC to New York City and then from NYC to Newport, RI —both of these double handed. Once in Newport, a third event—a two-day course-racing regatta with a crew of six completes the entire race schedule.
Unlike the long distance and trans-oceanic races in and around Europe, where one bad tactical decision early in the race or one equipment problem can make for thousands of miles of disappointing sailing, The Atlantic Cup competitors get a fresh start with each new leg and the event is generally won by the most consistent competitors!

Another great attribute of the Atlantic Cup is its commitment to running a clean and carbon neutral event, which has earned the Atlantic Cup a Platinum Level Clean Regattas certification by Sailors for the Seas.
They have also worked hard at providing an educational platform for inner city kids and using their resources and website to promote direct experience learning initiatives. If you go to their Kids Page, you will see how they have taken a page from the Bodacious Dream playbook, and posted "educational guides." You might even recognize that cartoon captain host … people tell me it's a great likeness. Their work the past few years have allowed hundreds of kids to visit with skippers and tour the boats when they are docked in Charleston, New York City and Newport.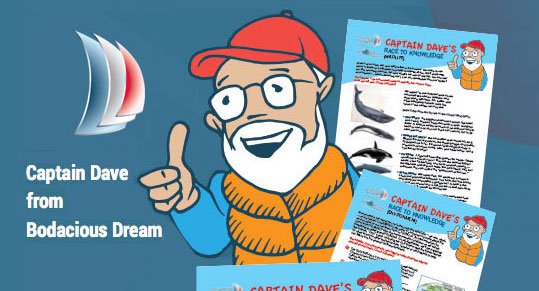 And although Bodacious Dream, sporting our FiSH-emblazoned spinnaker won't be on the water this year, our sponsor of the past two years, Jamestown FiSH, the award-winning restaurant across the bay from Newport, will once again be sponsoring parts of the racecourse with a mark off Jamestown Harbor, the finish line for Leg 2 and the inshore course races as well as a skipper's reception at their excellent restaurant! Jamestown Fish is co-owned and managed by John Recca and Cathy Squires, along with the sponsors and owners of Bodacious Dream. A must mention, head chef Matthew MacCartney was just named the "People's Choice, Best Chef in New England" by Food and Wine Magazine! Put it on your list of places to visit this summer and come join in the festivities during the skipper's reception on May 23rd!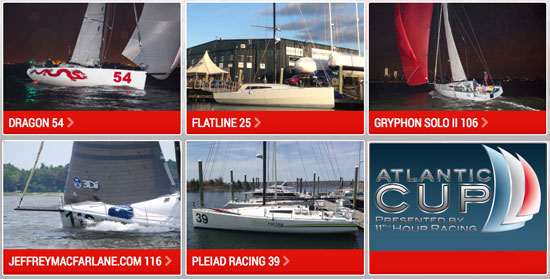 The Competitors in this year's Atlantic Cup …
Now, let me get back to my preview of this year's competitors. This year's lineup, in no particular order, so far is Gryphon Solo II, the former Icarus now being raced as JeffreyMacFarlane.com, Pleiad Racing, Dragon, and a new entry named Flatline.
Each one of these boats has proven worthy of winning major regattas. Gryphon Solo II placed 3rd in 2012's Atlantic Cup, Icarus placed 2nd in 2013's Atlantic Cup winning the inshore series, Dragon has a fresh new refit and new articulating bow sprit this year, Flatline has been resurrected after a major accident and is showing up in fine shape and the guys on Pleiad Racing have been refining their rocket ship all year!
But good boats alone don't do it and the depth of talent this year is as deep as ever. Gryphon Solo II skippered by Joe Harris with Pat O'Connor, have been around and up and down the East Coast for many years; Joe has victories in Trans-Atlantic races and Newport-Bermuda Races. Jeffery MacFarlane.com (old Icarus), skippered by Jeffery MacFarlane, has spent the last couple of years racing around Europe in the Mini Class and was ranked no. 1 internationally last year! Pleiad Racing is skippered by Ed Cesare with Chad Corning … need more be said? Both these guys come from very extensive racing backgrounds; too many events to list here and they are back for the second year ready to take it on. Dragon will be skippered by Mike Hennessey and Rob Windsor. Mike is the North American Class 40 representative and has all the cards. Rob has sailed everywhere. He's just now back from the latest Transat Jacques Vabre – a double handed Trans-Atlantic Race from France to Brazil. Flatline, skippered by Kyle Hubley with Frederic de Mesel are definitely the unknowns, but they have thousands of offshore miles between them, so experience is definitely not lacking.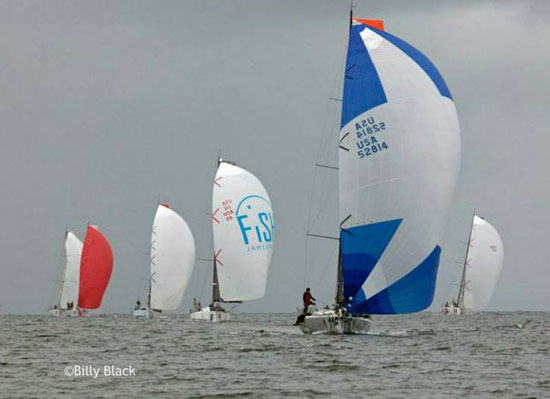 Bodacious Dream w/ FiSH sail … Atlantic Cup 2013 – photo by Billy Black

So, pairing up these sailors with these boats, all the signs are that this is going to be one of the closest Atlantic Cup Events ever. If last year's finishes were nail biters, this year could chew those fingers to the bone. I can only say I wish I could be there, as the competition and camaraderie are going to be something else. And just as an indicator of how American boats stack up against the French and European boats that tend to dominate European races – only one European boat has made it to the podium, the German boat Mare in 2012. None of the top French competitors who visited in 2012 and 2013 made it to the podium. Suppose we scared them off? Could be! Now there's a challenge to my European friends and competitors!
So, it's time to point your browsers to www.theatlanticcup.org and check out the stuff happening on the website, vote for your favorite team and introduce your kids to the great information and educational fun on the kid's pages. After you check them out then mark your calendar to follow the event when it begins on May 10th … or even better, get on down to the docks, visit with the sailors and join in the fun. This is going to be a great year!
From the middle of the Southern Pacific Ocean …
– Dave, Bodacious Dream (and native east-coaster) Franklin
1.34389S , 90.88464W