Two years ago this week, I was filled with anxiety as the clock ticked down to my departure from Jamestown, RI bound around the world. Looking back, what a short ride it was to completion on June 14th of last year! While there are always new things turning up in my world, it's always fun to look back and see the connecting eddies of life that converge around us.
• If you followed along, perhaps you recall the name of Joe Harris who aboard Gryphon Solo 2 sailed alongside Bodacious Dream as we exited Narragansett Bay that beautiful afternoon. The air was crisp and the spray of the sea tart. What a beautiful day it was!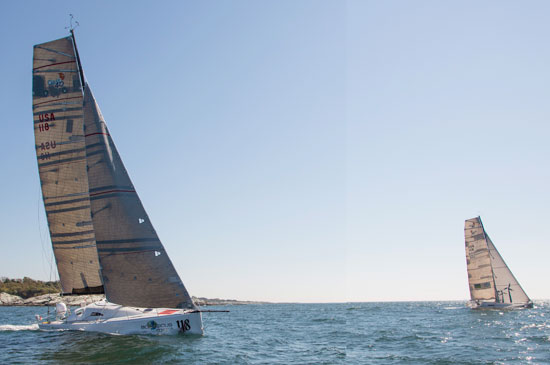 Photo by Billy Black
Well, Joe is feeling his own pre-departure anxiety these days. That's because he's into the last month of preparation of Gryphon Solo 2 to depart Newport, RI  November 10th on his own circumnavigation of the globe! But Joe's journey will be a tougher one than mine. Joe's going for a record-breaking, non-stop lap around the big blue marble. He'll be doing this in his own Class 40, affectionately known as "GS2." No stops, no rest, below the famous capes and hopefully faster than the present record of 137 days and 20 minutes! Amazing and dangerous… but if anyone can do it, Joe can!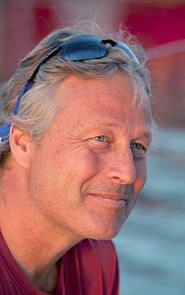 I know many of you have written telling me how much you miss the reports from Bodacious Dream. Well, here's a chance to get the rush again! Join up for Joe's updates and follow him. It promises to be action-packed and filled with excitement! Click and sign up @ www.gryphonsolo2.com and get caught up with Joe so you can ride along with him around the world!
And yes, though I won't have Bodacious Dream to sail alongside GS2 as Joe heads out, I'll be on the docks in Newport, probably waxing philosophically, and imagining as others have in the past… of the adventures Joe will experience. Good on ya' Joe!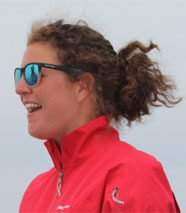 • In other news, remember Tegan Mortimer? The always-fun scientist who kept us up on the science of the ocean as we spun around the world? Well, on November 3rd, Tegan sets off on a great adventure called "Expedition Ascension 2015" – an all-women scientific expedition to study the ways of the ocean. The voyage departs from the Ivory Coast of Africa and moves across the Atlantic to South America. Tegan will be keeping us posted on her adventure and you can follow along with her on the website @ www.oceantalk.org/.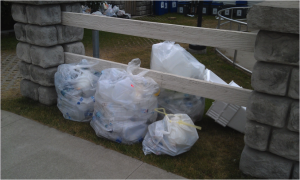 • These are dramatic times as it becomes clearer the impact humans are having on the ocean, and as we begin to raise our voices louder against the destructive winds. Back home on the Great Lakes, as an Ambassador for 11th Hour Racing, we are spreading the word about plastics in the water. This summer, I spent time convincing other sailors to adopt a no disposable water bottle lifestyle. We were instrumental in making progress and in not using thousands of water bottles on this year's Mac Race alone. Here's a link to my write up about it… www.11thhourracing.org/press/dear-fellow-sailors/.
I hope you will consider joining us in these efforts, even if you never leave shore. There's little if any reason to use disposable water bottles. Yes, sometimes we have no choice, but in those situations, we have a responsibility, that if you use it, to recycle it away when you are done!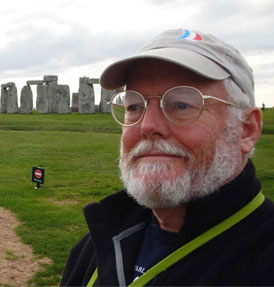 • Then there's the bOOk! Most everyone I meet along the way, on the docks, on the streets, in the airports and at the lumberyard want to know how the book is coming. When is it going to be ready? Well, the bulk of the manuscript is written and is now getting edited. I've got a few more chapters to write and some things to rewrite – so hopefully in time for the holidays, I will get them printed and into your hands. So, stay tuned!
For now, here's a book excerpt that relates what it felt like leaving Jamestown two years ago!
"My friend Joe Harris sailed alongside in his boat Gryphon Solo II, a kin to Bodacious Dream. Joe and I harbor the same dream—to sail around the world alone. We've carried our dreams for years, setting them aside as changes in life came and went, as flows of finances stalled and inspirations faded. Day after day, battling alone to keep our dream from wearing out like an untended hull in an old wooden boatyard. I was on my way, and I felt for Joe and what he must be feeling. I'd been there before, watching friends start world-girdling races with me left behind, tethered ashore.
We tacked back and forth on the fresh, cool sea breeze flowing towards shore, pulled in under the rising air heated by the warm sun on the dark land a few miles inland. Class 40 sailing boats are quick and responsive. Sailing at 8 knots comes easy for Bodacious Dream, and it wasn't long before Joe and I cleared the guiding lights of the harbor – Brenton Reef to our port and Beavertail to our starboard… when my radio kicked up with Joe's voice.
"Bodacious Dream, this is Gryphon Solo II."
"Go ahead Gryphon Solo, this is Bodacious Dream." (Standard radio communication between radio operators.)
"How you doing over there Dave?"
"Going along just fine Joe, how about you?"
"Doing great, what a beautiful day to depart on huh?"
"Yup."
"You should be able to bear off and head towards Bermuda now."
"Oh, ok… so, what's the course for Bermuda?"
I was embarrassed to not know this; I hadn't the time in the previous few days to look up this simple but important fact—the compass heading of my first course around the world! In a frantic, last minute fight with electronics and communications; I added a stop in Bermuda, a 600 mile, 4 day sail away, giving me the chance to make sure the electronic gremlins had been properly exorcised and the communication systems were working properly.
"150 degrees there Admiral!" A nickname Joe occasionally used for me.
With great relief, I adjusted my autopilot Otto's course down 20 degrees, a bit further off the wind point, allowing me to ease the sheets trimming the sails. Bodacious Dream had been heeling (tipping up) more than necessary, sailing tight on the wind, and needing a reef (shortening the sails). Soon she leveled out and picked up speed to 10 knots, sailing off for Bermuda as graceful and nonchalant as a beautiful, confident woman along the Champs-Élysées. Joe sailed parallel for a while longer, then, with a personal, silent wave of respect, bore off and tacked back toward the bay. My only companions now were the eyes and lens of Billy Black as he continued to take a few final photos."
As fall comes to my friends in the Northern Hemisphere and spring to those in the Southern Hemisphere, I hope you're all prospering and enjoying the beauty and wonder of your world.
Remember, "Stay connected— keep your toes in the water."
– Dave, Franklin & Bo (in absentia.)