Fall is here! Cold winds are blowing, leaves are stacking up, and Lake Michigan is moody. While last Saturday was beautiful, sporting a gentle breeze and clear skies as I picked up garbage on the beach, today is entirely different. The west winds are strong, the lake is stirred up and the grey skies are mixed with an annoying and constant drizzle.
That's the beauty of having four seasons here in the Midwest.
While the lake is free to express its many moods, great things are happening. Spirit of a Dream is now available in print and also as an eBook from Kindle… and is selling well since its launch on October 2nd.
If you hadn't heard this news, then I'm here to tell you. And if you have heard it, but haven't had the chance to purchase your copy, then there's one waiting for you at your favorite book source.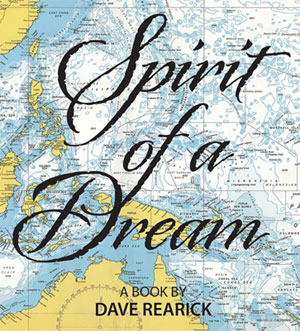 The reviews have been great, and the comments I've received suggest that the book is difficult to put down and that readers are finding it exciting and engaging.
Here's what Laurie says about Spirit of a Dream: "I couldn't put this book down and regret that there wasn't more to read. Dave's reflection of his trip around the world is vivid, full of suspense, touching (yes, I had tears twice), and personally fulfilling. His depth of experience coupled with some amazing intuitions and sensory awareness make this an exciting story. Anyone with a sense of adventure on or off the water will enjoy this journey around the world with Dave."
And Rick pulled this lesson from the book: "The journey you are on will teach you what you need to learn, not what you plan to learn."
If I might say so, the book makes a great holiday gift for any of your friends, including young readers. Young readers will find Spirit of a Dream inspiring as they look to fulfill their own life's dreams.
Keep those reviews coming. I really love reading them. Also, every bit of positive feedback helps us climb up the bestseller rankings. This past week, in fact, we were the #1 book in Sailing, Adventures and Explorers!
In addition to the publisher and Amazon (see below) here's a list of local places you can purchase a book as well as signings scheduled for the next few weeks.
Available at:
• Crowley's Yacht Yard, 3434 East 95th Street, Chicago, IL 60617
• Duneland Pizzeria, 520 Broadway, Chesterton, IN 4630
Signings:
• November 17, 2018 –  Michigan City Yacht Club (2:30 to 4:00 pm in The Club Room) Appetizers provided by Fish Camp Restaurant. Cash bar.
• November 27, 2018 – Fundraiser for the Chicago Maritime Arts Center  (CMAC)
• This will be at Lagunitas Brewing, 2607 W 17th St, Chicago, IL 60608
• Tickets are $45 & includes two drinks and appetizers.
• INFO & TICKETS are available at https://www.eventbrite.com/e/cmac-meet-greet-fundraiser-at-lagunitas-tickets-50918678137
CMAC is an excellent organization celebrating their first full season of teaching young people through building a wooden boat. We supported CMAC this year through an 11th Hour Racing grant. At this event, a portion of the proceeds from book sales  will be donated to the Chicago Maritime Arts Center. This will be a great, fun night and will provide a chance for you to meet some wonderful people and the young people they are serving grow into a stronger organization.
Otherwise, the paperback is available through my good publisher at Seaworthy Publications or through Amazon (in both Print or E-Book.) – or through local bookstores or marine chandleries
More info on the book can be found at http://spiritofadream.com/
And that's it for now… Have a great Fall and catch up on your reading!
– Dave