Hello everyone! … Spring is on the calendar even if it's not in the air yet. Amazing it's April 6th and it's too cold to work on boats in the Midwest. I have to say in my earlier years, I recall sailing Geronimo down the coast with a beard of ice hanging off the bow pulpit.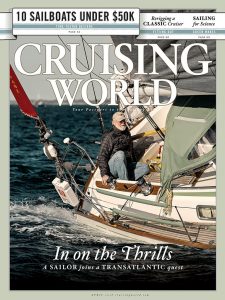 So, while avoiding boat work this weekend, you might enjoy reading the April issue of Cruising World. There's a familiar face on the front cover and an article by the very same writer on the inside. The article tells the story of last fall's sail across the pond (the Atlantic Ocean) aboard he 33-foot sailboat Hope to Ireland, Scotland, Norway and Sweden. It's fun, and I think you'll enjoy it and the photos. Bruce Carter took most the images, and there are some great shots. I bought a few copies of the magazine at the local Barnes and Noble, so I know you can find it there if someone hasn't bought them all up yet!! You can also find them at some West Marine Stores and get it online at this link.
I hope reading that article will tide you over until the much-anticipated release of my book, Spirit of a Dream. Spirit of a Dream is in the process of being published at the moment, and we hope it hits the shelves by the end of summer. Stay tuned for continuing updates on the release date.
Also, stay tuned for Atlantic Cup Kids updates. I'm presently talking with multiple classrooms in Portland, Maine. It is so much fun inspiring the imagination of students. Today I learned about Needle Fish from the students at Hall Elementary School.
Stay the course – spring is coming. I'll fill you in on what's happening in the next update. If you can't wait, you can always follow us at www.atlanticcup.org
– Dave