:: Monday, December 30, 2013
Hello to you all from the messy, cold, drippy, splashy and pounding Southern Ocean!
So, for the past 36 hours, we've been working our way through this weird high-pressure system that while it has moved south of me has still managed to keep me locked in a kind of "counter" wind. It's finally starting to loosen its grip and allow the winds to swing back around (moving counter-clockwise) to my left. Once that happens, then I can adjust my course back to the left and resume sailing along Latitude 40 on a more direct course towards New Zealand.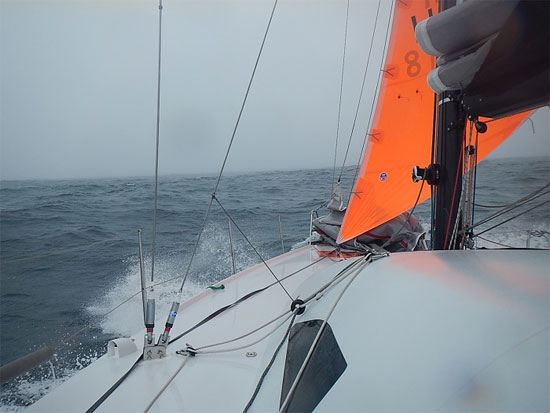 The Orange and Gray … 41.309362S, 39.09651E 
During this period, I've mostly been hunkering down and trying to let the boat just do her thing. I have to periodically adjust things to redirect her along the best wave angle to avoid anymore pounding than necessary when she kicks up, hops over a wave and belly flops into a trough. To further complicate things, there is this current that I can see is trying to help me, but alongside of that, there is this wind that is blowing against the current, and together they combine for a very chaotic and confusing set of waves to pick our way through. It's alternately annoying, worrisome and aggravating. It also takes a lot of mental focus to keep your head about you … and I'll be honest and admit that more than once in the past few days, I've yelled out at whomever (or whatever) is doing this, to just "CUT IT OUT!" Lotta good that does of course, but still sometimes it feels good to rail against the Fates. Big waves bring out big emotions sometimes!
To cut back on howling time, and to keep me focused, I've got about five books I'm reading at the present. Richard Branson's autobiography, Nelson Mandela's Long Walk to Freedom, a book on sleep, Malcolm Gladwell's What the Dog Saw and another one I just finished on the brain, called Incognito. When the roll of the waves makes reading too difficult, I let my mind drift off on various thought streams; houses I've yet to build, trips I've yet to take, meals I've yet to eat, hikes in the mountains and just about anything else that keeps my mind awake and engaged. It's a strange multi-dimensional game sometimes, steering the boat around waves and yourself around boredom, all the while you are stuffed inside some serious foul weather gear and needing to keep your critical electronics dry inside a tiny room with two open windows!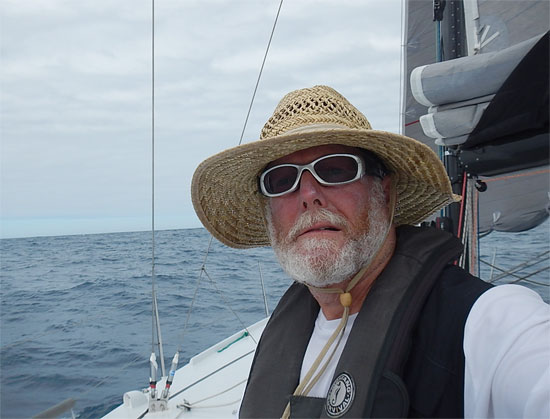 Sippin' the scene with a straw … 38.251451S, 24.799928E 
New Year's Eve is the next big event onboard. Franklin, BoDream and I don't have any plans at the moment, but I'm sure it will involve an interesting meal, maybe there's a little Bailey's Irish Cream left from my friend Joe Harris and I'll pull off a song or two from the iPad to play. Unfortunately, I'll have to sing Auld Lang Syne from memory, so I may miss some of the words … but I doubt many will complain!
Beyond that, we're wishing each and every one of you a special coming year where your dreams become realities and your heart grows ever stronger.
So, back to it here … the winds are starting to move in my favor, and as soon as the waves change too, then we'll be off hopefully on a couple day eastward run towards New Zealand!
:: Thursday, January 2, 2014
Back again after a couple good days of sailing. New Year's is behind us and today is a great day out here in the Southern Ocean. The winds filled in from the North and that has allowed me to beam reach eastward all day long at a pretty strong clip.
As is typical of late, towards the end of the afternoon, the winds ease back some, which offers a nice respite at sunset. This has allowed me time to relax and enjoy the sunsets, sometimes with a piece of cheese, or an apple or (for me) a fancy cracker appetizer!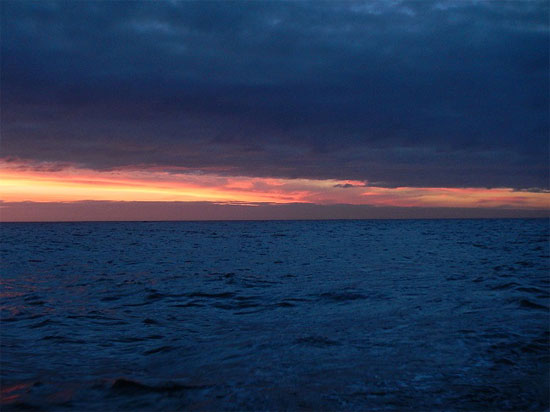 Southern Ocean Cinema … 41.329132S, 49.98871E 
Each night the sunset is something pretty special. Tonight's was especially dramatic, and as I was taking a number of photos of the sky, one of my friendly bird entourage dropped into the photo. It's a special treat watching these guys soar back and forth across the path I've cut through the water, presumably searching for food that I might have freshly stirred up.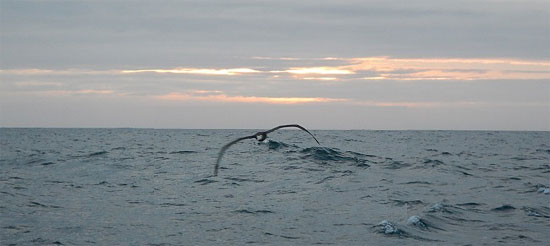 Part of the crew at this point … 41.329783S, 49.24377E
As the sunset progressed, it became a sky full of fire and ended in one long glowing streak  against blue … pretty amazing stuff. It's now dark and the stars are out. They hang so close to the horizon out here, I feel like I could pick them like berries off a bush. A most magnificent night it is, especially when one is sailing along at a smooth 8 knots towards lush New Zealand!
Be back soon with more … including an announcement about our all new Explorer Study Guides!
– Dave, Bodacious Dream & Franklin … (who had his first new year at sea)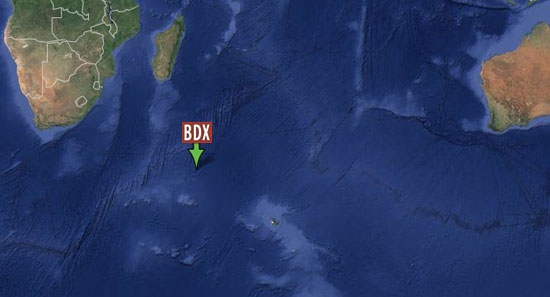 Latest Position: January 3, 2014 – 17:20:36 UTC … 41.464783S, 52.647433E