Bodacious Dream and I just departed Wellington, New Zealand set upon Leg 3 of the circumnavigation! We're very excited to be back at sea! I greatly enjoyed my stay here with all the close friends I've made, both recently and over the past two years, but the time has come to head once more beyond the horizon. Bo is looking and feeling good after a major maintenance overhaul – and we're both all about getting rolling again!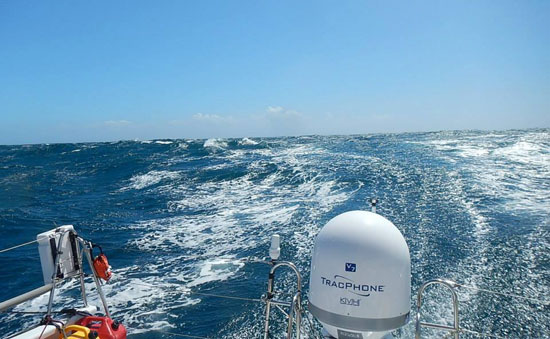 Back in the Flow … 
Sailing, as many of you know, is a practice that requires regular adjustments. You must constantly monitor weather, winds, seas and other conditions and then make the necessary changes to your course and trim. This global voyage we are on is no different, though sometimes it happens that the adjustments necessitated are more significant than usual.
After arriving in Wellington, I had to make a trip home to the states for personal and family reasons. It was good to visit with my people and to have that time with each other. But with the trip home, weather issues and other delays along the way, it has become necessary to make some changes to our gameplan so that we might continue in a proper and seamanlike manner.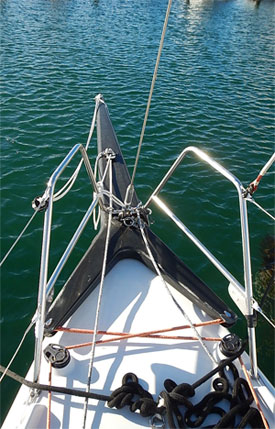 The change I am talking about affects the route the circumnavigation will take. Cape Horn, which my good friend Tim Kent calls, the Everest of sailing, has always been on our course for the circumnavigation, as well as a long-held dream of mine to experience first-hand. Unfortunately with the delays, the season has become quite late, and by the time I reach Cape Horn, it would be the equivalent of November 1st in the Northern Hemisphere. Considering this and other factors, it appears that I will have to sadly leave sailing around Cape Horn for another time.
I have decided to head instead up through the Pacific Ocean, which will allow me a stopover in the amazing Galapagos Islands followed by a transit through the Panama Canal. Both of these experiences will be exciting and rewarding and have long been on my list of must-do's. I'm hoping to arrive in the Galapagos sometime in early May. Once there, I will explore some of the amazing sites that these islands have provided scientists with incredibly unique research opportunities, ever since the days when Charles Darwin first visited on board the H.M.S. Beagle in 1831. I look forward to sharing this amazing place with you all.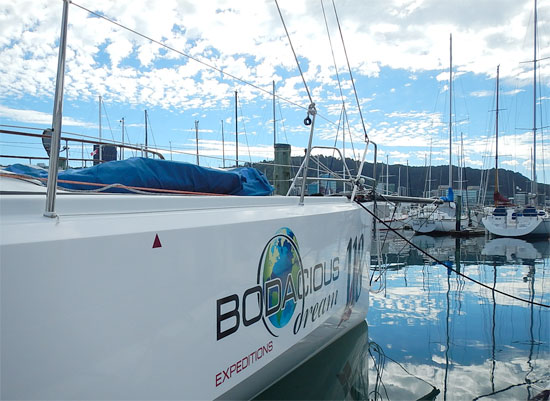 Wellington Harbor and that long, low white cloud …
It's not easy to leave New Zealand, land of the long, low white cloud. I've become quite fond of its beautiful landscapes, mountains and glaciers and the many wonderful people who have shown their support to me and to our venture: from David Minors, the great crews at Duffy Rigging, Matty G. at MG Composites to the awesome guys at North Sails and Barton's Marine. And then there are my friends at the Royal Port Nelson Yacht Club, Chaffer's Marina as well as a host of others including Lapo and Renata Ancillotti.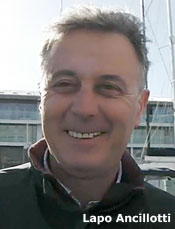 Lapo, Renata and I began our friendship about three years ago when Lapo was commissioned to supervise the building of Bodacious Dream. He and Renata have become great friends and Lapo's genius in the design and construction of the boat continues to amaze me. Many thanks to everyone in New Zealand, and for their part in creating the best Class 40 in the world!
So, as we set off on our journey, change, as it always does, has entered the picture. While the course change was not in our original plan, the lesson we keep in mind is that life is the journey and not the destination. Dreams do come true, though sometimes differently than you planned. And while you may grumble and grouse about it for a while, at some point, you see and accept the way things are … and you realize it's time to let your sails out and move forward!
There will be more exciting news coming soon.
And thank you for your support and many good wishes!
– Dave, Bodacious Dream and (the newly re-inflated) Franklin
:: BDX Website 

::

 Email List Sign-Up 

::

 Explorer Guides 

::

 BDX Facebook