It's been quite the eventful 24 hours since I began my final preparations for leaving the amazing Galapagos Islands! Bodacious Dream and I departed yesterday, Wednesday the 7th about 14:15 hours from Puerto Auyro on Santa Cruz Island, and headed west and then north around the western side of the island through the late afternoon and evening. No particular reason to go that way instead of the shorter, eastern way other than after so many weeks of sailing through vast oceans with vistas of only ocean and sky, I thought I'd like to sail along the shoreline for a while. That and the fact that Panama, my next destination, is only 935 miles away and I'm not feeling super rushed to get there! A short hop to be sure, compared to all the others!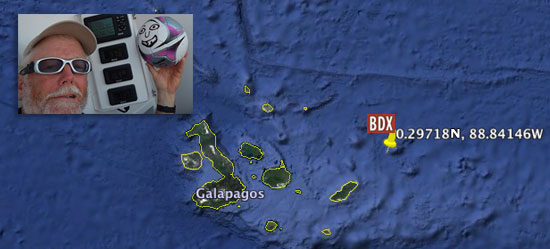 The "Ballboy" and I cross the Equator … 0.29718S , 88.84146W

While my list of typical pre-departure "things to do" like closing out my bills, shopping for fresh food, clearing out of customs and immigration, packing and stowing things on the boat, checking the gear and the engine usually go on without too much fanfare, yesterday wasn't to be such a day.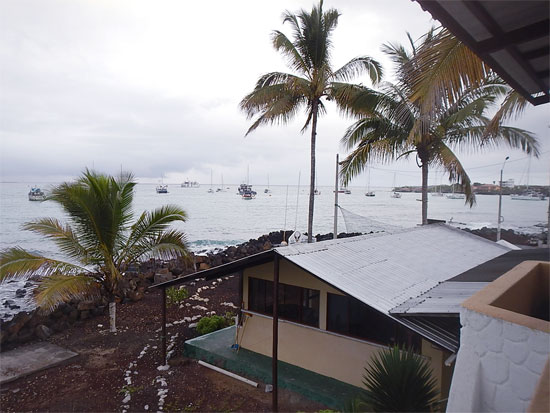 An overcast morning looking out on the harbor of Puerto Auyro 
:: Early Wednesday morning, I met up with Peter and Diego who run Galapagos Ocean Yacht Services, who have not only been great hosts but a tremendous help in guiding me through the local bureaucratic requirements. Diego and I were headed out to Bodacious Dream to put the fuel onboard, which meant we had to have a water taxi come over and pick us and the fuel up and then take us out to the boat. That part went smoothly. After securing the fuel on board, we called for another water taxi to come take us back to shore.
While waiting for the taxi, we noticed something strange. It's that kind of slow to dawn on you change in your visual field that suddenly causes you to wonder… "Hold on, wasn't that boat over there before?"
Sure enough, we were moving… and Bodacious Dream had come adrift from it's mooring! Yes, we were still tied to it – but we were both adrift! The mooring had broken its anchor which meant we were loose and drifting backwards towards the surf and shore that was less than 75 yards away – maybe less than five minutes away from the rocks!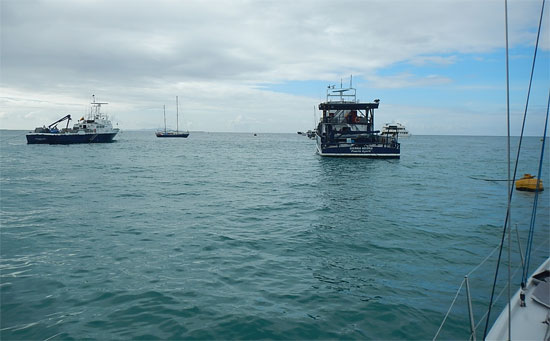 Just before this, we were moored right between these two steely dudes!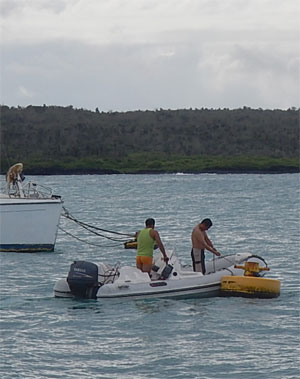 Thankfully, Diego with his command of the native language was able to raise help from the water taxis as well as from the crew of one of the large steel research vessels next to us.
In short order, we were unhooked from the floating mooring and secured to another mooring, while others stood by scratching their heads and wondering how that happened! Had we been just a few minutes later to arrive, who knows WHAT might have happened.
As I counted my blessings and made my final preparations, I noticed the two 100-foot steel research vessels disconnect from the moorings they were attached to and instead set their own anchors! I guess if you're that big a boat and you see a little 40 foot boat that weighs less than a 10th of what you do, break a mooring, you wouldn't trust it either!
Once secured, Diego and I headed back to shore to finish up my to-do list, so that I could get underway as soon as possible. It was obvious to me by then that Bodacious Dream and I were both ready to leave the Galapagos!
:: So, now after having run steadily through the night, we are on our course toward Panama and the Panama Canal, which I expect will be quite an experience on its own.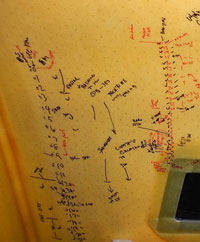 Checking the log and distances, here are the interesting numbers for today! Panama is less than 900 miles away. Bodacious Dream has sailed over 40,000 miles since she was launched in Wellington, NZ in November 2011. I'll have to do the math on the circumnavigation totals, but off the top of my head, I'd say it's around 25,000 miles since Newport. As I write this, I am just north of the Equator. If my mental maps are correct, you can ONLY cross the equator in two oceans. This trip, I crossed going southbound in the Atlantic, and have just crossed going northbound in the Pacific!
:: I learned a lot in the Galapagos Islands. There was so much more to see that I just didn't have time to do. In my next update, I will share with you some observations on the incredible wildlife I saw, but for now let me share with you here a bit of what life is like in the in the Galapagos Islands, and specifically in the town of Santa Cruz where I stayed.
I learned from locals that in the 1960's there were only 600 people in the Galapagos. Since then, the population has risen to over 20,000. As Peter told me, it is famous now as an eco-tourist destination. You can see that the locals must struggle to both capture the tourism economy and to manage the growth that has come so quickly to the islands.
While walking along the newly built promenades, you see restaurants, jewelry shops, art galleries and the inevitable t-shirt shops. Just a few blocks away though are the older buildings with apartments and storefronts of a more local nature. All these buildings are built with concrete! Wood is scarce here and has to be imported from the mainland, while concrete can be made from the volcanic ash of the islands.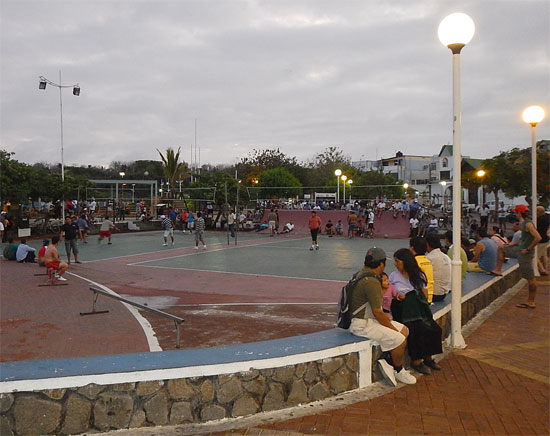 Volleyball and Socializing … 
The weather while I was there was hot and muggy, so many businesses observed siesta time by closing up for a couple of hours in the middle of the day and then reopening in the afternoon and evening. As they have for years long before the tourists showed up, it is a tradition for the locals to come down to the waterfront in the evening and to enjoy each other's company in the town square. Every evening about 6 o'clock, the men began to gather at the volleyball court in the center of town for a pick-up game, while many of the families sat around the perimeter and watched, and the children played. It seemed to be quite the town event.
:: By this point many of us touristas were wandering back to town from either a tour or a local hike, stopping by the small sidewalk café and enjoying a cold drink before heading our respective ways. In these impromptu gatherings, I heard a full range of languages… from German and French to Swedish, English (in several varieties) to Polish and Russian. I experienced so many great conversations through the few days I was there, but the one that I will share with you here sheds some light on one of the more memorable events in my circumnavigation.
If you remember, back in the Southern Ocean east of the southern tip of the African continent, I encountered a night with floating bioluminescent globes in the water – hundreds of them as I sailed through this area. Well, one of the folks I met at the sidewalk café was a scientist and captain of one of the sailing boats in the harbor, and they were conducting research for a magazine story. Somehow, we got onto the subject of the bioluminescence and he thought that what I had seen might have been bioluminescent squid that sometime float with surface currents.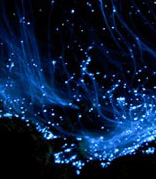 He told me of an experience they had one night while sailing. Apparently, there is only one type of seagull that feeds nocturnally and there are many of them around the Galapagos. (In fact, just last night, I had two of them flying around the boat and playing in the slipstream of the airflow off the sails.) Anyway, he described a night when they saw one of these bioluminescent squid flying through the air… obviously in the clutches of one of these nocturnal feeding gulls. Now wouldn't THAT have been a sight to experience?
Sitting in the cafés at night, I was enthralled listening to scientists, researchers, and regular folks like you and me sharing with each other their own unique experiences and stories of the oceans and the earth.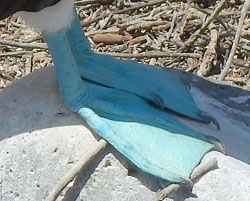 :: Over the next couple of days as I make my way towards Panama, I'm setting myself the task of writing down some of the amazing things I witnessed and learned while exploring the Galapagos Islands. I've got some great photos of the wild life too … and believe it or not, if you haven't seen a blue-footed boobie, they actually do have blue feet! I can confirm that as fact!
So, as I make my way north, I'm hoping for gentle days of sailing and some better weather. It rained every morning in the Galapagos, and I can still see showers around me on the horizon here. The locals kept saying that the rains were unusual this time of year. Normally, it's dry and getting a bit cooler by now as the sun makes its way towards the Tropic of Cancer. Actually, I suppose it's not so curious but one of the consistently reoccurring stories from each place I've stopped on the voyage is that the weather systems are different this year. It's a great and mysterious world we inhabit … full of telling signs and full of deep wisdom, if only we take the time to listen.
– Dave, Bodacious Dream (and galloping) Franklin!
P.S. While I was in the Galapagos, While he was there, the Jamestown Press back in Rhode Island caught up with me and got the updated story on the circumnavigation.