I've been in Rhode Island for about 10 days now, getting Bodacious Dream ready for the upcoming circumnavigation. Sorry for the lack of updates, but as you might imagine, there's a lot going on over here!
There are several significant projects happening concurrently – modifications to the mast, adding new satellite mounts and a hydro generator – as well as other tasks, each of them requiring that I order parts, organize the work, set up schedules and follow through to completion. While sailing often looks like just another fun day on the water, there's easily as much time spent off the water in preparation and maintaining a boat as there is in sailing her!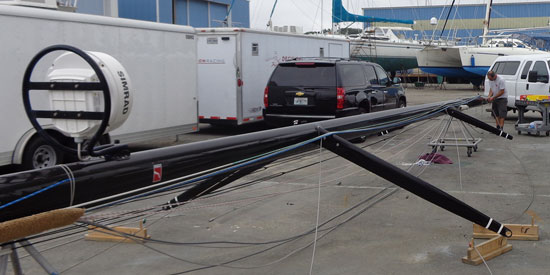 At present, the mast is dismantled and over at the Hall Spars shop in Bristol, RI, and in the competent hands of Dave Moffit, P.J. Schafer and Phil Garland. We choose to move the mast to their shop, as they have all the necessary tools there to install a winch on it and to add some clutches, a new shive or two and do some detail checks of the rod rigging. As you can imagine, the mast is like the engine in the car … without it, the boat stalls out and you're a floating box … so having everything in perfect working order is paramount.
While that is going on, we started installing the new satellite mounts and reworking the stern life lines, which are the taut wire handrails that keep us from flipping overboard! This has required drilling new holes, filling old holes, adding new hardware and rerouting wires. We've also upgraded our computer system to handle the workload better – which feels great.
On Wednesday, Steven Griffin from KVH, the mobile satellite communications company, and provider of our Tracphone V7ip unit, were kind enough to give me a fascinating tour of the KVH facilities right here in the Newport area. What amazing technology the've developed to produce the most sophisticated satellite tracking hardware available for boats today. It's an impressive operation, run with not only a precision focus on quality and technology, but also with a firm and moral commitment to their workforce too! I learned that many of the employees have been there from the first days when they made gyro-stabilized compasses. I'm proud to use their equipment.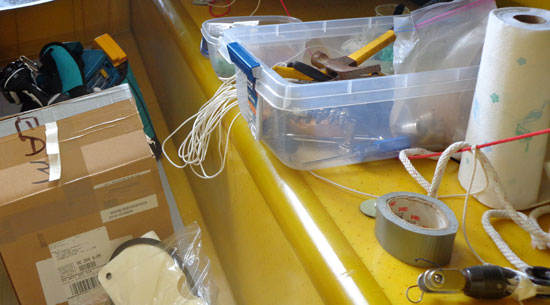 Each day is a little like Christmas here as boxes arrive regularly with parts and pieces in them. When considering that I will be away from U.S. shores for eight to ten months, it's necessary that I consider the availability of spare parts. While I may be able to receive shipments in Cape Town, South Africa or Wellington, NZ (cookies ship nicely, btw,) deliveries to the middle of the Indian Ocean are a different story. So, you have to think it through, and take a real close look at what you have and what you might need. Things like spare pumps, hoses, clamps, tools and such all have to be packed to ensure I'm as self-sufficient as possible.
Last week, we had a great meeting of the minds with the Earthwatch Institute team and myself to discuss our future progress. We are all looking forward to this joint venture, as we'll be able to provide Earthwatch with a "virtual" expedition, as we send back research data from remote points on our travels. The Earthwatch folks are also connecting us with other research projects of theirs, as well as with tools and methodologies to do samplings of plankton, micro-plastics and visual observations, etc.
I look forward to integrating all this research into our Bodacious Dream Expeditions Circumnavigation's Explorer Study Guides which are our learning and discovery components, to help provide context and insights along the way, for learners of all ages. It's quite a job when you consider the 30,000 mile wide whiteboard we are working on!
After the meeting, Tegan Mortimer, a dynamic young woman whose enthusiasm for whales and plankton is deep and inspiring, invited me to join her for a whale watching tour on the boat she works on. I'll do a separate update just on that part of the Earthwatch program, as Tegan showed me so many interesting and exciting things that I never knew about the really big guys, whales and the really little guys, plankton. Here's one factoid … did you know that plankton is responsible for the oxygen we use in 1 out of every 5 breaths? Amazing, huh?
Here's a short video intro to Tegan … with subsequent ones to come in the next update … as well as soon on our Bodacious Dream Expeditions YouTube Channel.
So, I've got to get back to work here – some composite work in the back of the boat to make mounting the satellite, lifelines and hydro-generator all work out. So, off I go … mask on, into the dark and scrunchy depths of the stern lazzarette to grind away at some fiberglass. All you sailors know just how much "itch by itch – little by little" fun that is! Oh well … just another day in the life of a dreamer … and what a fortunate one I am!
Until later, thanks as always for your support!
Dave & Bodacious Dream … (out here on the "verge" of the dream …)