Over the next few weeks, the sun will reach the Tropic of Capricorn at 23.4 degrees south latitude, marking the winter solstice, after which the holidays will pass, and the New Year will be upon us. I'm sure many of you, including myself, will be glad to see the turbulence of 2020 fade in our wake and the promise of new opportunities rise on our bow.
Giving respect to the past and future, I'd like to share with you three happenings from this year. First, the Chicago Maritime Arts Center's efforts, second, fun with 8th-grade students, and last, well…I'll keep you in suspense.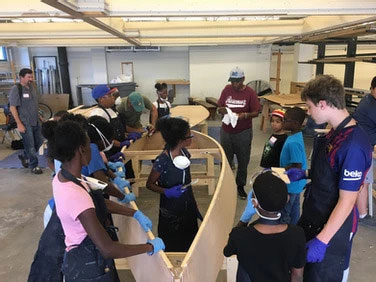 The pandemic slowed all of us this year and forced us to pivot and find new directions. The Chicago Maritime Arts Center, where we introduce young people to building a boat they launch and learn to row, took on the pandemic challenges and continued to provide programs for underserved young people in greater Chicagoland. My hat's off to Toby and Patrick for realizing that education need never stop. Together they developed a season of adjusted programs with fewer students and social distancing and successfully carried on throughout the summer reaching over fifty students and the accompanying adults. CMAC now looks excitedly forward to 2021.
One of the positives of CMAC is something none of us expected. Each program is chaperoned by coaches, adults and parents of the students. While our focus is teaching the students to use tools, row a boat, and navigate the new world of water and ecology, hidden in the success of CMAC is the adults' enlightenment. We all know how hard it is to teach something you don't know. Imagine leading young people to new opportunities without knowing these opportunities exist yourself. It never occurred to us that the adults were gaining a fresh perspective and understanding of the water along with the young rowers. The adults and young mariners, each in their own way, returned to their communities to lead and engage their peers with what they'd learned. While I believe we change the world by guiding young generations of people, we are never too old to learn.
I find the changes we accomplish through CMAC incredibly important. I hope you see that importance as well and will consider joining the effort. 2020 was tough on us. Covid restriction reduced our ability to hold our annual fundraiser. But 2021 promises to be better, and CMAC hopes to find a home base to significantly increase our ability to provide programs to the broader community. We all know a home base's expense will require us to spend more time asking for donations. Simply put, we need a few angels to help us engage the youth of Chicagoland. Click here to find ways to join and options to help.
My second message involves the eighth-grade students and teacher, Tobi Guthrie, of LaPorte Middle School, LaPorte, IN.
As the students around the country ended their 2019/20 school year in remote learning, we also experienced our own disruptions and difficulties with making remote learning work for the students. Attendance for Zoom classes was down in every school. During our Atlantic Cup Education Program efforts, we worked hard to provide teachers an attractive option. Many of those teachers remarked that our presentations to their Zoom classrooms led to increased attendance.
Tobi Guthrie, a teacher at LaPorte Middle School in LaPorte, IN, and I have discussed using Spirit of a Dream, my book on the circumnavigation, for her reading classes. As the second wave of the pandemic quickly turned Indiana back to remote learning, Tobi asked her students if they'd like to read Spirit of a Dream and meet the author during the remote learning term. The answer was an overwhelming "yes."
As fate would have it, Joe Janson at Seaworthy Publishing, returned to me eighteen books that had come back from bookstores for restocking. Tobi's Novels Class has eighteen students. No more evident a reason was necessary, making the rest of the story obvious. Our first Zoom classroom meeting was a great success, confirmed by a ton of questions from the students. Next week, I will visit again via Zoom and update the reading, and I expect I will be once again bombarded with even more questions. What fun!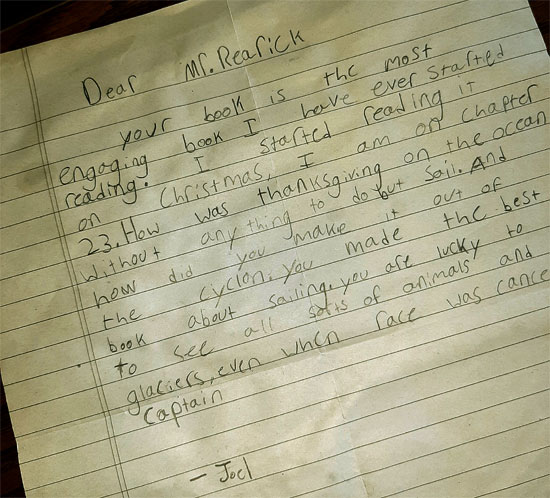 Spirit of a Dream is a thrilling read for adults–sailors or not. But when I wrote the book, I envisioned what Tobi Guthrie is doing; engaging young people in the story and to learn how we all fit in the planet's ecosystem. It's working. On my desk, I keep a note from a third-grade reader who stated, "Your book is the most engaging book I have ever started reading." I hope we can all inspire young people this year; they need our help to continue to learn in this changing world.
Spirit of a Dream makes a wonderful gift for students, both young and old! And yup, that's a blatant plug.
So, on to the last and most fun futuristic news.
During 2012 and '13, one of Bodacious Dream's most formidable competitors was Joe Harris on another Class40, Gryphon Solo II. As I wrote in Spirit of a Dream, Joe and I held, clearly in our souls, the same dream of sailing singlehanded around the world. Joe, on Gryphon Solo II, accomplished his dream the year after I did on Bodacious Dream. Fulfilling those dreams did little to satiate our desires to sail the oceans of this planet.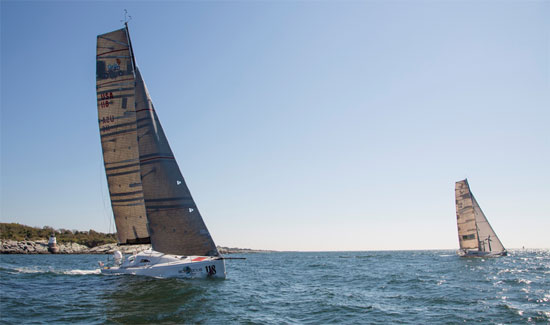 In 2019 as Joe was close to selling Gryphon Solo II, he learned of a new, doublehanded, circumnavigation race titled the Globe 40. Joe signed up, and this fall asked me if I'd join him as crew for some of the legs of the race. The rules provide for the changing of crew for different legs of the race.
In October, we held a crew practice in Portland, Maine, and since then, Joe, Rob Windsor, and the crew at Maine Yacht Center have been working hard to prepare GS II for the start scheduled for June 2021. Not unexpectedly, we learned this week, that the pandemic will delay the start of the race until 2022. But, the excitement remains high among those of us joining Joe for this adventure. The race will start in Tangiers, Morocco, and make stops at some fascinating ports of call around the world. The Mauritius Islands in the Indian Ocean, Auckland, NZ, Bora Bora, Ushuaia, Argentina, Recife, Bazile before finishing in Cascais, Portugal. Join the excitement. Click on both Joe's Page and Globe 40 to receive the regular updates.
I hope we've all found a way to combat the pandemic and effect some small change in our personal worlds. Let's continue to look closer to home to help inspire the young people of our communities. The pandemic doesn't have to make you miserable; use it to inspire and affect change for the future.
Best to you all, and have an excellent 2021
– Dave and Franklin