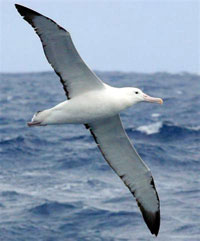 Saturday marked one week since leaving Cape Town, South Africa on a course through the Southern Ocean towards Wellington, New Zealand. The Southern Ocean is known for its cold northward flowing waters, its extreme weather but also for its large population of Albatross birds, who have the uncanny ability of seeming to fly forever without ever flapping their wings! This first week, I didn't make the 1200 miles I was hoping for, as so much time was spent trying to escape the clutches of those high-pressure weather systems that keep the southern tip of South Africa insulated from the steady march of cold fronts that move southwest to northeast off the Southern Ocean.
This mix of cold fronts which are low-pressure systems, rotate clockwise here in the southern hemisphere while the high-pressure systems rotate counter-clockwise – and which generate a mostly steady stream of westerly winds, which is what I need to ride to get me to New Zealand. The dynamic combination of these two systems is what generates productive sailing winds. However, this past week, the highs have dominated the region and I have only had two cold fronts pass, one rather weak and the other last night rather robust.
Coming as I do from the far milder climes of the Midwestern Great Lakes, I am having to quickly learn these new weather systems and waters and to synchronize my experience and intuitions with this new ocean. Overall, this has made the past week pretty challenging. However, as the blustery front moved on today and the 30-knot winds diminished, a more steady westerly wind developed that allowed me to sail quite quickly through last night with wind speeds in the 17 knot range. That pace is more manageable on a boat like Bodacious Dream than the far pushier 30-knot winds.
Bodacious Dream, being a racing boat and so light in weight, can really move! While other world-crossing sailors often have larger, heavier boats and can make use of all the wind 30 knots can provide, I only need 15 to 20 knots for a really quick ride. So, when the winds get much higher, it becomes a lot of work for me to single-handedly keep this racehorse under control and not have her gallop off too fast.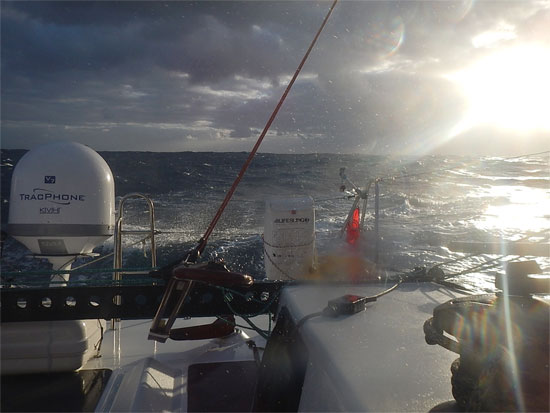 Earlier in the week … 35.394364S, 13.294403E
I know all this high-pressure, low-pressure extreme weather talk is dominating my narrative since leaving Cape Town, but that's what's happening, my friends! So, to recap, here's the pattern as best as I can explain it.
The routine repeats itself every couple of days. First off, the winds begin to build up from the north and the northwest as a cold front approaches, pulling the winds from the high-pressure system in toward it. I set my course to the east and sail with those winds and watch for the telltale signs of the approaching cold front, typically about 24 hours away. Once I see squally conditions forming, I know that the front is approaching and that at some point, without warning, the winds will start to diminish, indicating the coming of an abrupt wind shift over to the southwest as the actual line of the front passes. At this time, I gybe the sails, but keep the boat on the same course, which means, I move the sails to the OTHER side of the boat and keep on sailing. Often, for an hour or two, the only difference is a change in temperature downward until a few hours AFTER the front has passed, at which point the clouds start to part and the sun begins to shine. Then, maybe 6 to 8 hours after that, the skies have cleared up and we continue sailing eastward on the southerly breezes … UNTIL they shift around to the north again and the pattern starts all over again.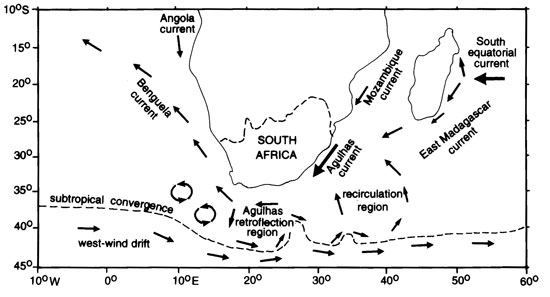 I'm not even going to TRY to explain this map! 
This basic pattern is the one that is expected to continue for about 5 weeks, until we hit New Zealand where more local weather conditions will dictate different strategies for our arrival. This is probably why the Southern Ocean is so often referred to as a "desolate" sea. How many people would want to put up with these kind of knockabout conditions, unless it served some larger purpose, as it does in my case!
So, my daily routine has readjusted itself to match up with these weather patterns. This means that unlike at home when you get up and start your day, out here, I never quite know when the day begins as I am almost always somewhat awake and working to manage the boat or take care of something … sleeping only for brief intervals of 15 to 20 minutes. Such short intervals bring a little extra peace of mind as well as allowing me to keep an eye on the boat and to look out for other ships.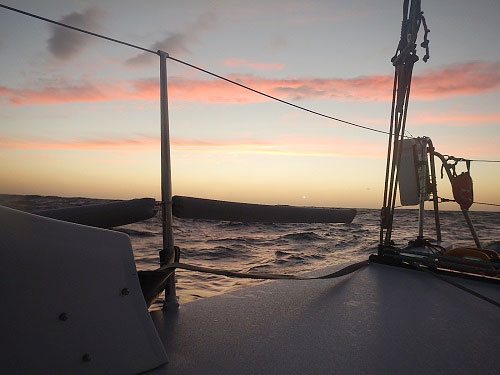 A not untypically beautiful Southern Ocean sunset … 40.54816S, 34.195064E 
In the midst of all this, I try to hold to some semblance of a personal routine as well. I'll share that with you, if you care to read a little further.
Around sunrise, I take a couple of quick naps and then toast the day with my personal favorite beverage … an orange juice box! I'll then set up the computer and send out a position report, as the Spot Adventures tracker, which did that automatically on Leg #1, isn't active in this "desolate" part of the world. Once that is done, I'll check instrument readings and write in my ship's log the goings on for the past hour or so. After that, I might settle down and read for a bit or watch the waves and the sky.
I don't generally take a lunch, but rather snack on foods through the day. Beef Jerky, crackers, cheeses, fruits and chocolate make up my most important food groups. At least a couple of times during the day, I'll take over driving and allow Otto, the auto pilot a chance to relax. Once sunset happens, I leave it to Otto drive through the night. All through the day, depending on the wind direction and speeds, I make adjustments to the sails, plot navigation and make notes in the ship's log. As I said, higher winds mean more sail adjustments … from reefing the mainsail to reefing the jib to taking the jib down and resetting it again.
I like to have my dinner late at night, after the sun has set and the winds have stabilized for the night. I'll search through my "pantry" of freeze-dried foods and pick out something that sounds good … not that the choices aren't already well known to me! Somewhere between 22:00 and 24:00, I'll boil my water, mix up my food and then sit out on deck and dine al fresco under the stars! Something about the setting makes the food seem worthy of a five-star Michelin award – though last night the outside deck was closed due to inclement weather!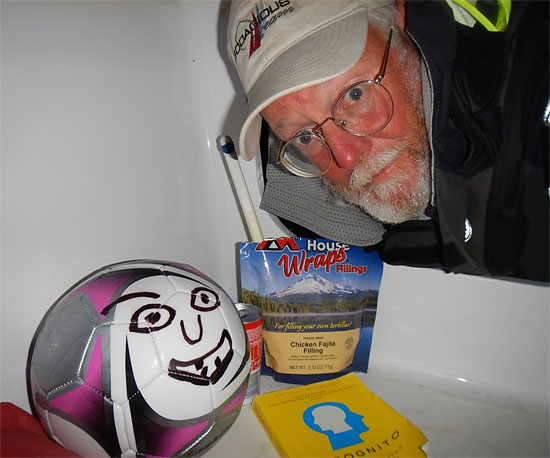 Franklin, Food and Fine Reading …
I'll then spend the rest of the night reading and napping on and off waiting for dawn to arrive at which point the routine begins all over again.
I wish there were more exciting events to report, but for the past few days, life has been a bit mundane … with the exception of the occasional big waves that crash over the cabin top and deck, the 30-knot winds and the incessant squally rain of last night. But aside from that, there's nothing too exciting going on around here! Believe me, last night, even though all my Midwest friends tell me how cold it is there right now, I still found myself wishing I was there … that is until the clouds broke and the sun started to shine again!
That's it for now … Wow, the new year is almost upon us! All good wishes to all of you for a great one!
– Dave, Bodacious Dream and Franklin (my bouncing buddy)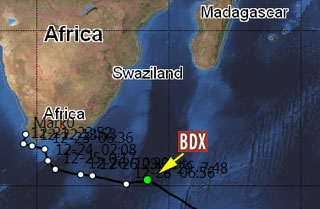 Currently @ … 39.803250S, 35.970750E