At the moment, I'm less than 100 miles from Cape Town, South Africa! My mind is excited and alternately entertaining the thought that I've been sailing for seven weeks straight now, and two months (today!) since I left Jamestown, RI … with the thought that in 24 hours, I'll be walking the streets of a large and unknown African city!
(NOTE: Dave arrived safely in Cape Town, mid-day on Tuesday, December 3rd)
These past two months condense in my memory into a large and very wet block of time, one in which I was near constantly awake and working steadily around the clock. There's not much to punctuate time on the open water other than sunrises and sunsets; that follow each other in a steady succession, all of which remakes your perception of time in a very singular way. With this first leg likely being the longest leg of the entire circumnavigation, some part of me worries that the other three legs will pass even quicker, and that this whole expedition will be over before I've had a chance to fully grasp the meaning of it all.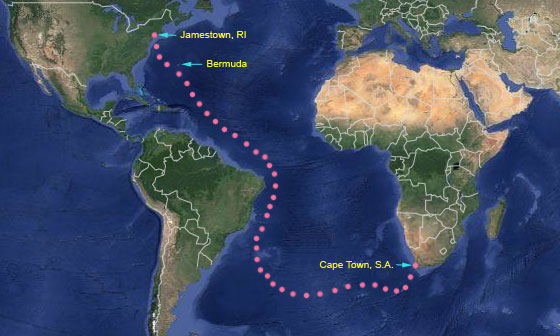 So, this is what 8000 miles looks like … 
I opened the paper charts today of the North and South Atlantic oceans, to make some notes and to look things over, and I was amazed when I drew my finger across the nearly 8000 miles course that brought me to Cape Town. And to think, I'm actually just about there! If all goes well, I should arrive sometime tomorrow afternoon, hopefully in time to do a thorough rinse down of the boat, before checking into a hotel, scrubbing myself down and then catching a relaxing, fresh dinner – something with no freeze-dried chicken, please!!
I've been sailing the past three days through a full-spectrum mix of weather, with last night being the toughest, marked as it was by a broken halyard and a dropped jib! I've been trying hard to play the weather patterns to our best advantage, positioning Bodacious Dream to the south of Cape Town so as to get the best angle of approach through the heavy SE winds. There are almost constant SE storm force winds that blow up the African Coast, so in order to more easily negotiate that vein of wind; you stay as far south as you can until the wind "bends" you back into Cape Town. We were ready for that scenario, but then a rather unique thermal low pressure system slid down over Cape Town and began to cancel out much of the heavy SE winds … but not all of them … which is what we fought our way through last night.
Imagine if you will, the impact on your psyche of a loud bang landing out of nowhere in the middle of some heavy weather sailing? It happend just before sunset, and thankfully when I was steering. BANG!! My first thought was literally, "There goes the mast!" But quickly enough, I saw the jib falling to the deck and into the water, giving me every indication that the halyard had parted. At this point, I'm thinking (or at least hoping) that it's only the shackle that broke and that the halyard will still be intact at the top of the mast when I get into port! Otherwise, it's a long string with weights on the end of it to fish a new halyard down the length of the mast without twisting it around something already in the mast!
So, after a rather difficult and physical night of sailing, we are tonight, nearly becalmed. There are very light winds from the SW nudging me along towards Cape Town. The forecasts are for the breezes to freshen up here tonight, which would give me a good final push towards the harbor. But for now, it's a beautiful night out here … so beautiful in fact that the thought crosses my mind of not stopping, but rather of sailing on to New Zealand. I mean it's only another 6000 miles, and probably faster miles than this trip! Should I keep going? You know … on second thought, I think I could use a break from all this constantly alert busyness, so I think it's best to stop … not to mention the fact, that I haven't had a cookie in weeks!
So, the plan is to spend a couple weeks in Cape Town making some repairs and changing some of the setups on the boat to better sail the Southern Ocean, that vast expanse of water that flows under the four major capes of the world. That's where we are headed next! There are also many interesting natural wonders around Cape Town, and I hope to be able to bring you some learning programs on them as I visit them. Cape Town has quite a history to be explored, and it's definitely time to pick up our learning and discovery agenda!
Also, once I can hook back up to the Internet, I'll be downloading lots of photos and videos … so stay tuned to email and to Facebook to catch up on the fun of the past two months! Forgive me though, if it takes a couple of days to get those photos and videos uploaded … as I'll likely to be stuck in the shower for quite some time.
Until later,
– Dave, Bodacious Dream and Franklin (who is finally beginning to get the idea that we're going all the way around the big ball!)