At some point over the weekend, we crossed the International Date Line … which meant I had to sail the same day all over again! As the world is divided into 24 time zones, there has to be a place where there is a difference in days, somewhere the day truly "starts" on the planet. Thus, the 180° line of longitude, exactly one-half way around the planet from Greenwich, England and 0° longitude is approximately where the International Date Line is located, and as we crossed the line from west to the east, a day was subtracted.
Looking around at the sky and sea, it sure looks like this could have been yesterday, as the conditions the past few days have been so much the same. What we have are grey Southern Ocean skies, grey Southern Ocean waves, moderate Southern Ocean winds patrolled by grey and white Southern Ocean albatross. Much the same, day in and day out … but that's not a complaint – not at all! Actually, I'm quite grateful for the moderate conditions, which have allowed me to more gradually transition from land to sea and to work through the emotions of leaving friendly company to being alone and still far from home.
Despite my love for the adventuring lifestyle, each time I leave harbor and set out again, I'm spent for a couple of days, as I transition from the more manageable life on land to the more unpredictable demands that await me at sea. After a few days though, the transition is mostly complete and my focus shifts back to the journey and destinations ahead instead of aft at the land and friends fading beyond the horizon.
So now, Bo, Franklin and I work our way east towards an imaginary point about 120°W longitude, where we will look for our chance to make a turn north towards the Galapagos Islands. Until then, I spend my days sailing the boat, looking out at the vast ocean, watching and studying the dozen or so albatross that glide over the undulating waves, up and down back and forth as they circle the boat, watching me with one eye as they soar by. I suspect they find my sailing as curious as I find their flying. Perhaps, as the old sailors believe, they are the souls of dead sailors guiding and watching out for me, as I sail through their neighborhoods.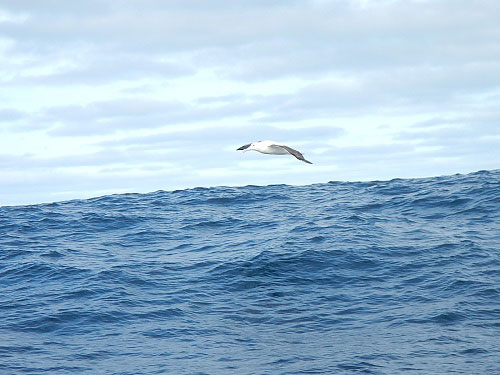 Our boon companion … the Southern Ocean albatross
Today, we look to catch our first cold front. It's not expected to be a strong one, but likely will bring with it with some mix of weather – a shift of winds, a drop in temperatures and a change in patterns – each shift playing some part in moving me along on his journey, though for now, they look to be gentle changes and positive movements.
Last night, we had rain … and more rain, refreshingly washing the last of the dust from land off this ocean-bound vessel. And in the dark of night, we had visitors … strange looking creatures that seem to only fly at night … flying squid! Two of them landed on deck and waited until morning for me to return them back to the waters, but not before I captured their unique features on camera.
In some ways, they are ugly, and in other ways, beautiful … beautiful in the way that such creatures are that must adapt their appearance to a world in which they must struggle to find a place, to exist and to thrive … and to occasionally catch a lift on a strange passing vessel!
So, we continue sailing … now about 700 miles east of New Zealand headed for that waypoint about two weeks away where we'll make adjustments and the changes to our navigation that will take us in the direction of the amazing Galapagos Islands. So, off we go!
Thanks so much for following along. I'll be back soon with more.
– Dave, Bodacious Dream and Franklin (who's back to his bouncy self)
:: BDX Website 

::

 Email List Sign-Up 

::

 Explorer Guides 

::

 BDX Facebook