Bodacious Dream and I are set to leave Cape Town first thing tomorrow morning! I've got just a few more things to find at the store – a pair of fleece pants I want to purchase and some additional books that I can read. I've got quite a library going onboard now with the help and interest of friends. With the historic passing of Nelson Mandela, I'm thinking his book, A Long Walk to Freedom would be an appropriate read for this next leg.
Cape Town has been a marvelous place to harbor. I can honestly say, my opinions of Cape Town were forged from the 1990's and earlier, and were much in need of updating. I can't wait for the opportunity to return to this beautiful place and enjoy more of it. Table Mountain, the coastline, the town, the country and nearby wine growing regions all make it a great destination to put on your list. I'm afraid that if this weather window had not opened for me to leave tomorrow, I'd be one of those who contract "CapeTownitis" … the inability to leave this place! Now I just wonder when I'll be able to return.
One trip I took was up to McClear's Beacon on the top of Table Mountain. The beacon was used nearly 170 years ago by surveyors  to map out the coastline around Cape Town. In this video, I try to explain how that worked.
McClear's Beacon up on Table Mountain …
The folks at the Royal Cape Yacht Club have been marvelous hosts. I can't thank them enough for all their guidance, answers and hospitality. They have their major race coming up here after the first of the year. It's the Cape Town to Rio Race … so they are ramping up for a very busy time, which also makes it an opportune moment for me to move on.
Here's a shot of me up on top of BoDream's mast, where I spent a good part of this week. You can check out the set of "Top of the Mast" photos over on our BDX Facebook page. Click here to see that album.
Many people have asked if I've recovered from the trip down yet. I'd have to say that another week or so with not so much work to accomplish would really help, but at the same time, I'm pretty well recovered now from the fatigue and lack of sleep and so taking off isn't an issue. I wonder too if another week would put me past my "edge" and then I'd have to reset all my internal gears to get back to long distance sailing. So, for now, the answer is YES, I'm ready to sail onto New Zealand though I may take a little more time in New Zealand this time through!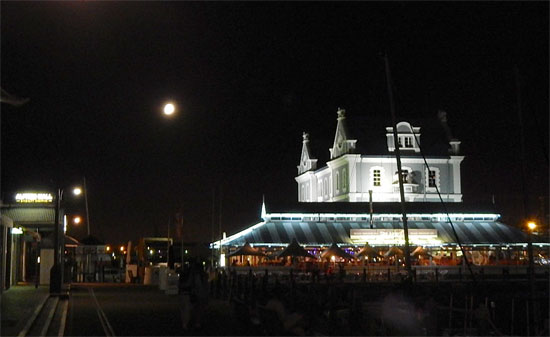 Moon over Cape Town …
Last night as I walked along the waterfront after dinner, I saw the still full moon in the night sky. Tucked in-between and camouflaged by the streetlights and the busy waterfront harbor, she still shone bright and I felt the draw to be back in the serenity of night on the open ocean with the bright moon and stars. With Christmas just a few days away, and the weather forecast for pleasant conditions, I'm hoping for a spectacular Christmas Eve at sea. I'm already thinking about my freeze-dried Christmas night meal! And this time, I'll have enough cookies to make it a real holiday celebration!
As you can imagine, over the years, I've made friends with so many people from so many different walks of life. Each of us has our own ways of commemorating holidays. I have always enjoyed Christmas, though I know many friends who have other traditions they celebrate. I find it calming inside that we have all found common ground to tolerate and respect each other's traditions, knowing that we all, in our own ways, are celebrating and honoring the gift of our lives on Earth. May we all discover more of those generous dreams in the coming New Year.
So, tomorrow morning, at 06:00 hrs I will head to the harbor. It will take me a couple of hours to put the final stuff away, bend on some sails, check some of the rigging and make one last check of things before I untie the lines, slip from the harbor and head out to sea, bound for Wellington, New Zealand and the continuation of my solo passage around the world.
Thank you all for coming along with me and for being there to hear the stories, share the explorations and marvel at the amazing spectacle that is life.
Dave, Bodacious Dream and Franklin (who is really ready to get back in the swing of things.)