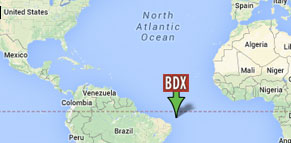 As I write this, it's Friday out here … right about noon. We continue banging and slapping our way down around that bulge of the Brazilian coast heading in the direction of Recife (the fifth largest city in Brazil, with a population of ONLY 3.7 million!) It's around 285 miles away yet, and we expect the winds to keep building today and tomorrow, as we get closer. Hopefully once we get there, the winds will start to shift easterly, and make our passage a bit less bumpy.
To be honest, I could use a break, as these "tossed around" conditions have been going on now for about ten days straight … beginning in the more northern trade winds, then even into the doldrums, which instead of living up to their name, turned into just another heavy squall zone. And now through these more southern trades.
In any case, we're here and feeling good and knocking them off – one mile at a time. Maybe 48 more hours … which seems like a long time, but I've been out here 5 weeks now, so I guess a couple more days will be just fine.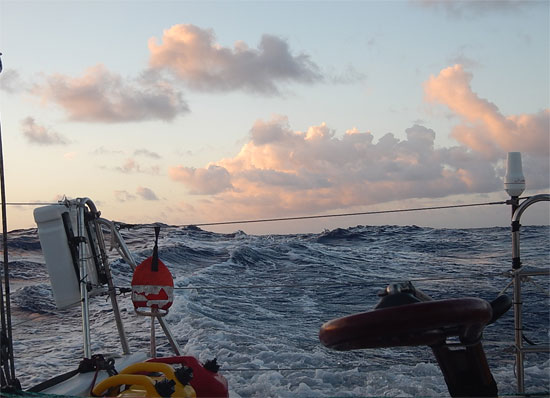 Otto the auto-pilot … and the waves … and the clouds.
Last night at 22:27 hours, Bodacious Dream, Franklin and myself all sailed across the equator for the first time. Bo may count her "taxi" ride from her birthplace in Wellington, New Zealand as her first time, but on her own hull, under her own sail – this was her first too. It's customary out at sea to have a bit of a celebration on such occasions – and those whose first times it is, often get played upon – dumped on with a bowl of leftovers from the galley … oatmeal, mayonnaise and such gooey things … and then made to sing a song or something. Well, last night was a bit more civilized … we shared the last of the cookies, ate chocolate and tossed a few morsels to Neptune. I was just about to open a bottle of special stuff that Joe Harris had thoughtfully provided, when blam – new winds and squalls forced me to put it away. I'll offer up a toast tonight at sunset for everyone, for all of you, for Neptune and for us three newbies.
So, maybe you're wondering who's Franklin? Well, Franklin is my designated guardian … provided to me after this year's Trans-Pac by my awesome crewmates aboard Bodacious IV. Franklin is a soccer ball complete with a drawn on face! A cousin of Wilson, no doubt … that other soccer ball made famous in the "Cast Away" movie with Tom Hanks.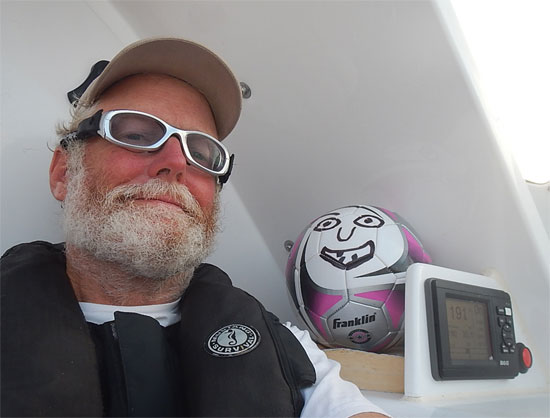 Say what you want about him being only a ball, he's still fun to have around.
In other news, yesterday I spotted and photographed these birds flying overhead. Out here any bird sighting instantly piques your interest. You kinda feel like a cat … "Oh boy! A bird! Come over this way, little bird!" Anyway, I'm not all that good at identifying birds … so, I sent the photo to Tegan Mortimer, our Earthwatch scientist, who wrote that great Science Notes blog post directly preceding this one … and she said … "The birds are a type of Tropicbird. I'm not 100% sure what species they are. They're probably White-Tailed Tropicbirds, though they might be Red-Tailed Tropicbirds. I've uploaded the sighting to iNaturalist and put out a request for help with the identification. New Englander that I am, I don't know much about these birds, so will try to get back to you with some more information." Good enough for now. Thanks Tegan!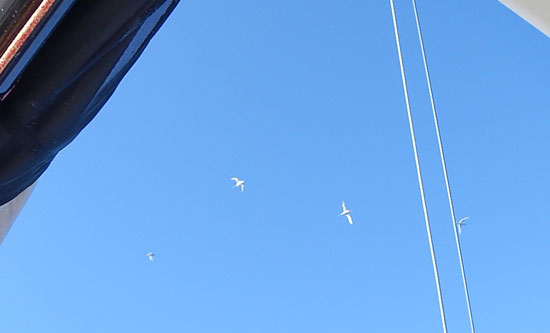 White-Tailed Tropicbirds or Red-Tailed Tropicbirds?
Put this in the "long_time_at_sea" folder, but there are a LOT of curious sounds out here and they become especially noticeable at night. Also, as time goes on, and especially once fatigue sets in … the sounds take on these eerily human meanings. Most prominent among them, is the "chorus" (which emanates from the whine of the auto-pilot motors) and there is the "old man" whispering incoherent things to me (that would be the humming sounds from the hydro-generator) and so on.
Last night, there was a new sound – a kind of urgent cracking sound. It seemed to come from below decks. I could hear it snap more intensely each time the boat hit a flat trough. I finally dove below and looked around. Turned out it was my Atlantic Cup Co-Skipper  Matt Scharl's fishing pole, which had come loose, which caused the tip to whip around with each bounce and slap against the underside of the deck. Whew … another voice in the night put to rest! Grateful it wasn't anything worse than that. I tell you though, the less sleep you get, and the more repetitive conditions become, the easier it is to understand how people might begin to see and hear things that may or may not really be there. So far, think we're doing ok on that score.
Well, that's enough for now. Hopefully in a day or so, conditions will be better and I can sit for a longer period of time and do a more thorough update.
Signing off,
– Dave, Bodacious Dream and Franklin
33.08023W, 2.79826S