The last 36 hours or so have been a bit frustrating and a bit exciting too. On one hand, we've had little or no wind which has made the going slow and with little cloud cover, the days have been quite hot. On the other hand, we've been monitoring a growing tropical depression, which has developed into a storm called Lorenzo. Presently, Lorenzo is south and east of me, and the interesting recommendation this morning from our online naval guidance system, Commanders Weather is … "Let's go try to catch it!"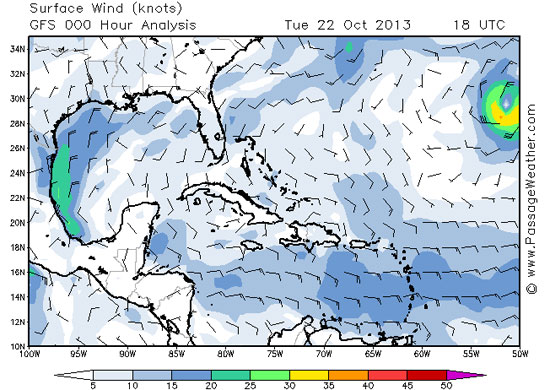 Lorenzo appears to the right there …
STORM-RIDING: Now, I know that may not sound too smart … and in most cases it wouldn't be. But in our particular case, and at this particular time, we are trying to get to a point where I can pick up the NE trade winds and ride them down to the waypoint where we will enter and cross the "doldrums." (The doldrums, being the term for that low-pressure area around the equator where the prevailing winds are almost always calm.) So, in order to move forward, we need whatever wind we can get, and if I can use the cold front that is supposed to pass through today to push me in that direction, and so catch the outside bands of Lorenzo, then it can help pull me east, which is just what we want to do.
With tropical storms and hurricanes, there is never a truly good side to them, but what is considered the generally navigable quadrant is the forward left corner. So if the storm is moving, as Lorenzo is to the North and East, then the left forward corner is where Bodacious Dream and I can hitch a ride around the underside to the East. Guess we'll have to see if this works or not. Right now, the winds from the cold front, which began to pass over us just an hour ago, are still less than 8 knots, but we expect them to build to 15 and maybe 20 later this afternoon. If that happens, I'll sail those winds to the Southeast, and hopefully catch those outer bands of Lorenzo.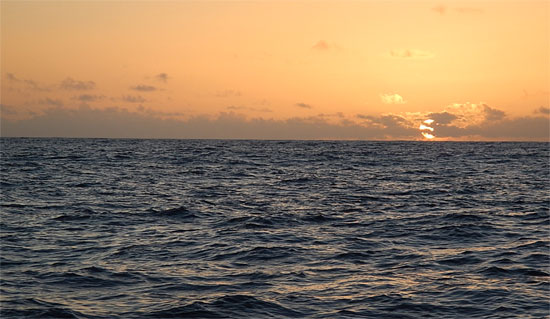 Sunset Passing …
WATER CONSERVATION: Yesterday, as the day went on, we had a squall pass over us. What a grand and refreshing thing it is to stand in the middle of the ocean in a fresh water rain! It's easy to lose track of how important the little things in life are, until you don't have them.
I have not discussed this before, but Bodacious Dream has no onboard freshwater shower, so cleaning up (or "bathing" – if you want to get real liberal with the term) involves using a bit of saltwater, followed by just a bit of fresh water on the face. I don't want to use up too much fresh water for such purposes … as I'm never sure how much I'll need for drinking on the trip to Cape Town. I also have to keep in mind, that I'm only into Day 6 from Bermuda of what is likely going to be a 40-day trip to Cape Town. So, the 60 gallons of fresh water I have will be pretty close to gone by then. I plan to drink or use up to 1 gallon a day, but we always want to take precautions in case something were to go wrong. What if one of the jugs springs a leak? What if I get a cut and have to wash it regularly … or who knows? What if the mast breaks and I had to drift across the ocean? What if? What if? What if? This is the song of the sea, and it is why the art of careful preparation is so important for extended adventures like this.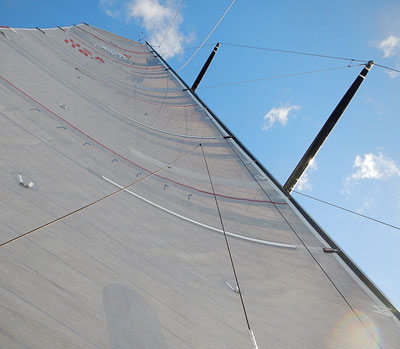 What I see when my eyes drift up …

CITIZEN SCIENCE: In my role as a fledgling citizen scientist, we're taking regular readings for Earthwatch Institute. These include filtering water, observing debris in the ocean, watching for wild life, taking readings with the "Secchi Disc," as well as using these updates to help educate people on the interesting ways of the ocean.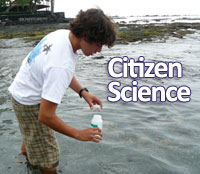 As far as debris goes, I've only seen two pieces of plastic so far. One looked like a storage box or container, the other some ort of plastic cylinder. I'm sure neither were buoys marking fishing nets. I've taken pictures of them with the geo-tagging camera, so they can be logged onto the iPad and when I'm next in port, I'll upload the information to the research sites.
Take a look at our CITIZEN SCIENCE PAGE … it's chock full of great resources, put together for us by our Earthwatch ocean scientist, Tegan Mortimer.
In fact, I heard from Tegan the other day, about that Yellow Rump Warbler that joined me onboard a couple hundred miles off the coast of New Jersey. Here's what she had to say.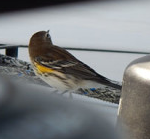 "I'm happy to report that Dave's bird sighting has been uploaded to iNaturalist and has had the species id confirmed which makes it a "research grade" observation. This means that it will be included in a global biodiversity database, which provides scientists and managers information about the distribution and movement of animals. So very exciting!
As unusual as this sighting seems, it's actually probably a bird, which was on its fall migration from Canada down to the Caribbean, maybe got a little tired and caught a little ride with Dave to get a rest! Bird migrations are pretty interesting (and migration in general) so I'm writing up a little piece for some educational background on it."
Thanks Tegan, we look forward to reading the piece!
So, enough for now. I have to get back to business here … and catch up on our gusty "friend" Lorenzo. Be back soon to tell you what happens.
We all know how spotty Facebook can be, so make sure you're getting the major updates by signing up for the email list here! Thx!
– Dave & Bodacious Dream

Coordinates as of 12:30 UTC (06:30 CDT)
054.5947W, 33.3195N 
Our Speed Over Ground (SOG) – 5.5 knots.
Our Course Over Ground (COG) – 130 Wind speed – 8 knots.
Cookies left- Not enough!