I'm back in Wellington, where maintenance and preparations for the next leg of the circumnavigation continue. As the work goes on with Bodacious Dream, I find myself eating everything in sight and loading up on chocolate, in response to what I can only suppose are abnormally low chocolate levels.
The weather here in Wellington has varied dramatically. The past few days have been extraordinary beautiful, which stands in sharp contrast to the dreary, cold, wet and windy weather we encountered upon our arrival and for the following several days. As dynamic as the weather is, the landscape of this country is equally as powerful, from amazingly majestic mountains to gently rolling hills that spill down into bucolic farm fields.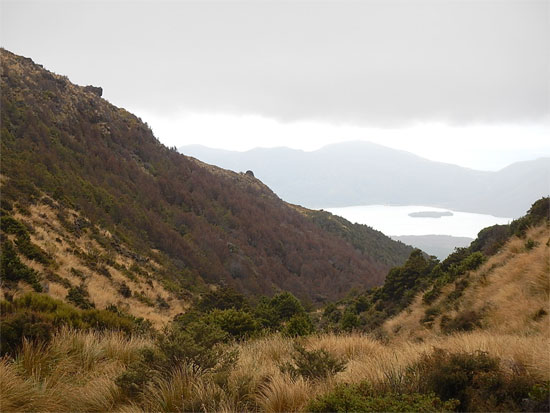 Tongairo Alpine Crossing in the middle of NZ's North Island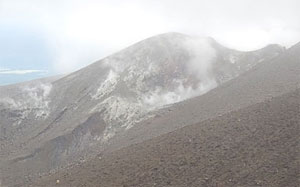 Last week, I went off with some friends to hike the Tongariro Alpine Crossing, a 10-mile hike up, over and through an area of active volcanoes complete with sulfur-smoking fissures in the ground. Unfortunately, it was cold, wet and windy. However, we pressed on, even when some were calling for a turn back, because the "sailor" in the crowd kept arguing that the wind and rain were at our back and too early a return would put it right in our face! Though we made the crossing without incident, I could feel my legs had been greatly weakened from the 52 days at sea!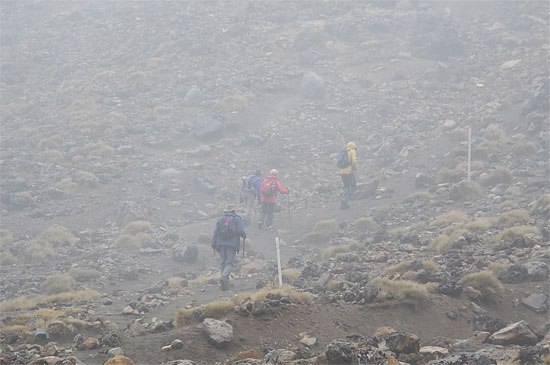 Our Intrepid Crew
Bodacious Dream is getting such a thorough going over from the guys that know her best, the original builders, and so far, they have found no issues with any of the construction. This is more than just good news as it says much about the design and the quality of her construction. As I said in my previous post, Bo has over 32,000 miles on her now, and the 15,000 of those since the circumnavigation began, have been very tough miles!
In between work and jaunts out-of-town to explore this amazing land, I am trying to firm up plans for the next leg of the circumnavigation. As many of you know first-hand, everything in and around the ocean and the experience of sailing, is by its very nature in a state of constant change. This is no different for Bodacious Dream and myself.
Our original plans and timeline called for our leaving New Zealand no later than mid-February, to head east and around Cape Horn, the southernmost tip of South America, there to meet up with some of the most treacherous weather and water in the world. However in addition the various delays in the journey so far, there has also arisen a  pressing family matter that will require my return to the States for a short time, which means my departure from New Zealand may need to be postponed until the middle of March. A delay of that duration may have an effect on our course and timeline. Allow me to explain that a bit more.
As you know, the seasons are reversed here in the Southern Hemisphere, so that the March 21st Spring Equinox in the North, signals the Fall Equinox down here. What this means, is that with the delays, I might be sailing around Cape Horn in what would be the equivalent of late October back home. Cape Horn, at 58 degrees south latitude, corresponds to the northernmost border of the U.S.
Considering all this, my weather routers and I are considering an alternative route that would take me north through the Pacific Ocean and then through the Panama Canal. While not allowing me to capture the holy grail of sailing – rounding Cape Horn – such a course change might also offer other adventurous learning and discovery opportunities.
In life, I've found that sometimes the best adventures are those that life takes you on, rather than the ones you try and take life on. So, we will remain flexible as we continue to weigh our various options and do what we must do before deciding on the actual route that will bring us back to our home waters sometime in the middle of the summer. Naturally, we will keep you posted on our decision-making process here as it develops.
Thank you as always for your continued support and enthusiasm for our expedition. There are lots of photos and videos coming out here soon. I am captioning the last of the Leg 1 photos and the "Leaving Bermuda" album is ready for viewing. We hope you enjoy them as much as we did capturing them in those many magical moments we have experienced since we left now-distant Jamestown.
– Dave, Bodacious Dream, Franklin and our many Kiwi friends!
:: BDX Website 

::

 Email List Sign-Up 

::

 Explorer Guides 

::

 BDX Facebook